More than a rice cooker, the Oster 20-Cup Rice Cooker can be used to make a whole range of tasty dishes such as soup, and steamed vegetables, and get this, fondue.  It can make chocolate fondue or cheese fondue.  Of course, it cooks rice just as easily with the simple pushing down of a lever.  Et voila, a full-course meal that you can top off with fondue for dessert.
Oster 4724 20-Cup Rice Cooker Product  Specifications
Multi-use Rice Cooker makes chocolate fondue, soups & more
Prepares up to 20 cups of cooked rice
Vacuum sealed cool-touch lid
Steaming Tray, Measuring cup and rice paddle with paddle holder
700 watts of power, Stainless steel w/silver & black
Product Dimensions: 12.2 x 12.8 x 12.5 inches ; 1 pound
Shipping Weight: 7 pounds
Like many appliances that are made nowadays, this cooker can do more than it was meant to do.  The Oster 20-Cup Rice Cooker for example, cooks rice, steams vegetables, makes soups, and to top it off, melts chocolate or cheese for a great fondue.
I got this as a housewarming gift, and I love it so much!  Let's get one thing straight, I love fondue, and, for me, this rice cooker's versatility is what sets it apart from the pack. After all, who'd have ever thought of adding a fondue-making feature in a rice cooker?  One advantage is that it eliminates the need for me to purchase a separate fondue set.
This machine is made of stainless steel and black that matches other appliances I have in my kitchen, it is so beautiful.  As an added bonus, the Oster Rice Cooker is almost completely automatic.  As soon as to push the lever down, you're good to go.  You don't need to do anything else but go about 15 to 30 minutes and it will handle everything about the cooking already.  I did mention that you have to keep in mind the time because after the rice is cooked, the Oster Rice Cooker goes on automatic warming mode.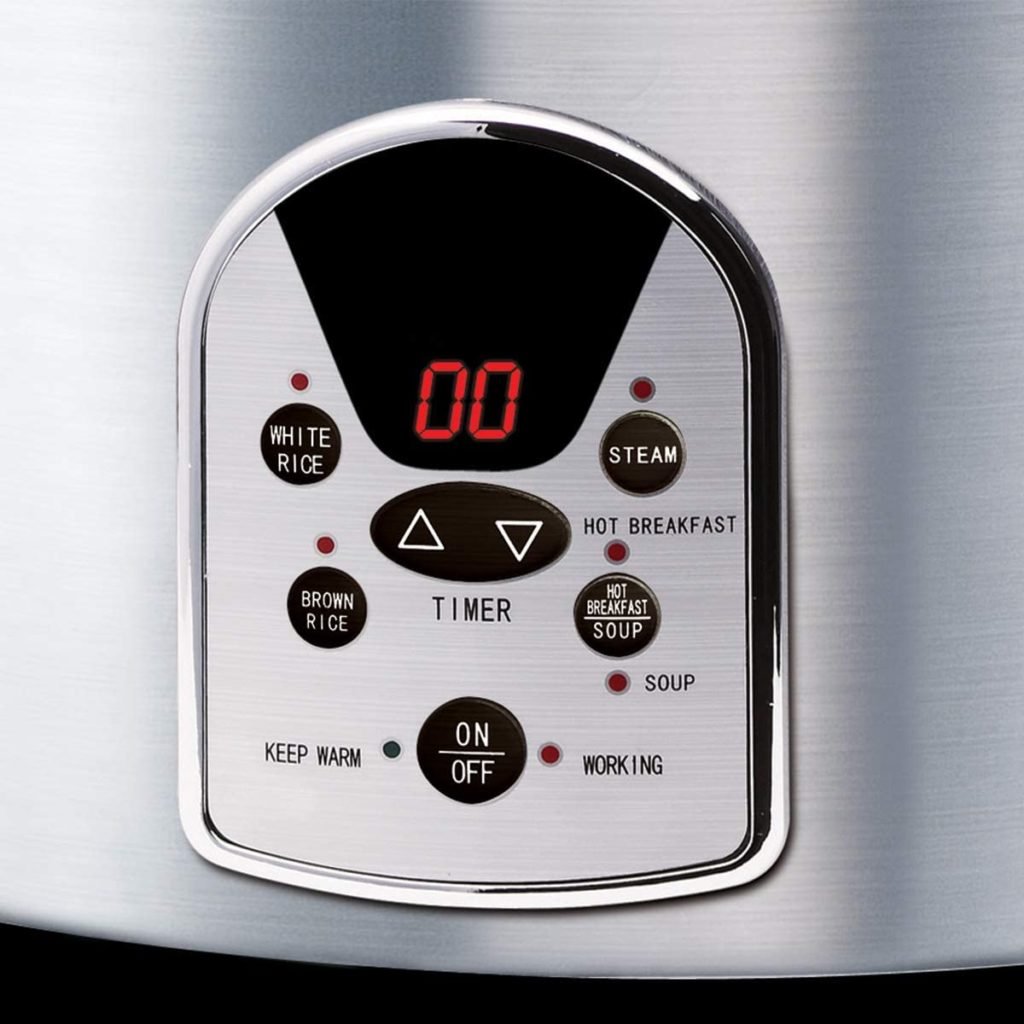 The rice it cooks is wonderful and with perfect consistency.  I would like to say from this part though that you should unplug the rice cooker.  Yes, it has no off switch.  Sometimes if this rice cooker is kept on too long, this appliance burns the rice on the bottom part of the bowl, and this residue as you all know is a bit hard to clean off, although, generally this rice cooker is easy to clean.
I think then this "over vigilance" to heating is what makes the Oster a good fondue maker.  All it would need is the long fondue skewer to make it a tried and true fondue set.  I don't mind using forks for dipping fruit or croutons into the fondue this rice cooker has made but if ever you use this appliance for this purpose do set aside your fork after dipping.  It might slip into the fondue.
Oster 20-Cup Rice Cooker at a glance
Pros
Attractive design
Automatic, no need to keep looking in on rice cooking
Versatile
Easy to clean
User friendly
Cons
No off switch
Burns rice if kept on too long
What versatility!—that is all I can say about this rice cooker.  It is a brilliant gadget to have in your kitchen as it can do so many things, from cooking rice and steaming vegetables, to making fondue and soup, saving you time and countertop space.