This versatile (and rather cute-looking) cooker from one of the biggest manufacturers on the planet – Panasonic – cannot be ignored both because of its pedigree and its functionality. But, despite a feature list as long as your arm, does it do the most important job of all? Can it cook perfect rice every time? Well, let's find out in my review of the Panasonic Sr-DF101 rice cooker.
Features
Micro-computer "Fuzzy Logic" controlled adjusts power depending on how much rice is being cooked for precise cooking and more consistent results
Black pan with white anodizing for better tasting rice
12-Hour keep warm, 24-hour clock, large orange LCD read-out
Menu includes white/brown/sticky rice, porridge, steam, slow cook, 15-minute cook and cake
Measures 13-1/8-inch (L) by 9-7/8-inch (W) by 8-1/4-inch (H), 7.3-pound, White Chrome finish
Product Details:Panasonic SR-DF101 Rice Cooker, 5-Cup Uncooked/10-Cup Cooked Rice Capacity
Product Dimensions: 10 x 13 x 8.2 inches
Shipping Weight: 9 pounds (View shipping rates and policies)
Shipping: This item is also available for shipping to select countries outside the U.S.
Shipping Advisory: This item must be shipped separately from other items in your order. Additional shipping charges will not apply.
I want to start this review off in a slightly different fashion because, today, I'm going to be comparing the Panasonic to one of the best-selling rice cookers on the market – the Aroma ARC-820SW rice cooker (which I have owned for many years). To do this comparison, I began cooking at the exact same time with the exact same quantities of rice (2 cups) and water. I wanted to see if the fuzzy logic machines cooked any better than the old-school rice cookers that most of us have used.
The rice was finished cooking in the Aroma cooker probably 15 minutes before the Panasonic finished cooking. You could hear the Panasonic's fuzzy logic constantly cycling the heat on and off during the cooking cycle.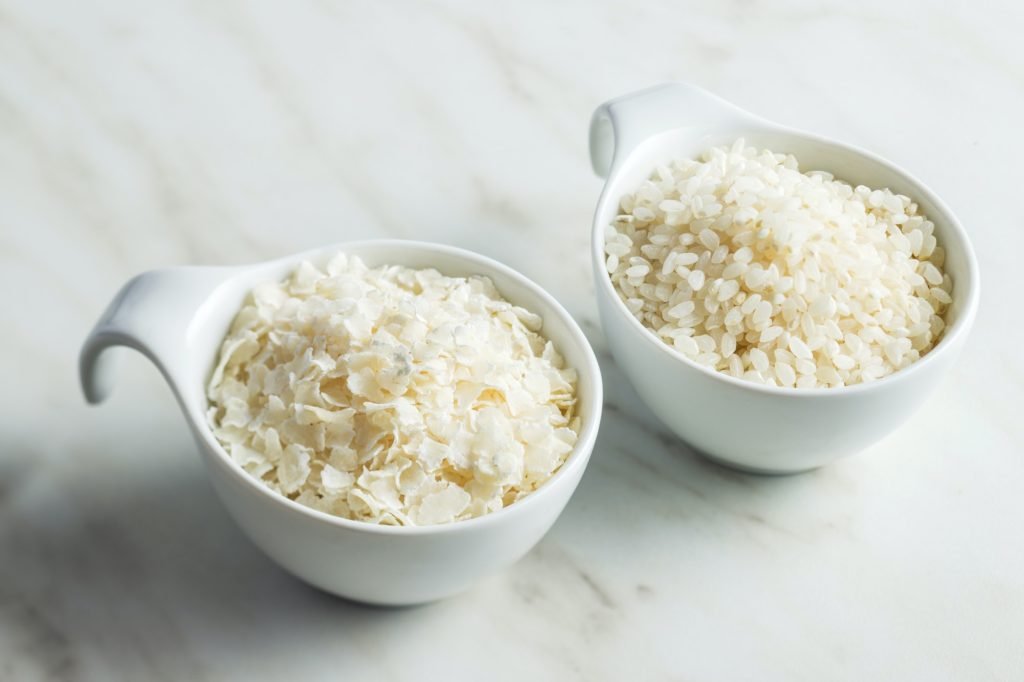 The differences between the two were dramatic. The rice cooked in the Aroma was somewhat dry, very unevenly cooked, and somewhat burnt and crispy on the bottom. It was still edible and even enjoyable in a way, but crispy on the bottom nonetheless. The rice cooked in the Panasonic was moist, plump, fluffy, and uniformly cooked throughout. I had thought that the differences would probably be subtle. That was not the case. The Panasonic fuzzy logic rice cooker did a much better job than the Aroma without any question. The differences were substantial. Now on to the full review…
First Impressions
The bad news is that the operating instructions manual isn't super clear if you are an English speaker. There's an awful lot of Japanese text and other languages jumbled about and you really have to pick through the mess to find the English and even when you find it, it's mixed in with other languages. Confusing and unclear.
I was also somewhat confused by some of the listed water levels. While white rice cooking instructions were quite clear (ex: fill to the #1 water level for 1 cup of rice), things like sticky rice are a bit, well, stickier. For example, it lists the water level for one cup of sticky rice at 180ml. What is 180ml? Certainly, that's not marked on the water scale and I can barely understand ounces! Then, it shows the water level for 2 cups of sticky rice at water level 1 and then in parenthesis (+90ml). What does that mean? Anyway, it's somewhat confusing.
The Good Stuff
Now the good news. This is an outstanding rice cooker that is generally very easy to use, confusing instructions or not. When I opened the box, I was surprised to see that the time was already set, albeit 2 hours ahead of my west coast time. Apparently, a lithium battery keeps track of the time for about 5 years. That's a nice feature.
But we're most interested in how the thing cooks rice. The answer is, quite nicely. My rice came out absolutely perfect. Not too moist and not too dry. Each grain was absolutely perfect and uniform. Nothing was burnt and no part of the rice was overcooked or undercooked. It also seemed to be more flavorful than what I was previously used to.
The settings are easy to understand, especially if you don't read the manual. You can choose between brown rice, white rice or sticky rice. Just set what you want on the LCD display and press start. Once cooking is complete, a gentle and somewhat soft alarm sounds a few times and the unit goes into the keep warm mode.
There are also modes for porridge, cake (yes cake), steam, quick cook, and slow cook. You can also set the timer to cook for a specific time. You can cook quickly or very slowly over a period of multiple hours.
Inside of the confusing owner's manual are a few recipes with funky and/or somewhat alien ingredients, at least to my American tastes. For example, there is a recipe for spaghetti made with ketchup and another for chicken soup made with sliced green gourd and pickled lemon juice. If you don't care for either of those recipes, you could try cooking the cereal porridge made with boiled Job's tears and boiled Lotus seed. Good luck finding those ingredients.
But the cool thing is that you can actually make things like soup, curry, porridge, spaghetti, and cake in this rice cooker. Clearly, it offers a lot of versatility.
You might wonder what's up with its fuzzy logic programming. I too wondered about this and I discovered that most cookers of this type are either on or off. This machine can understand terms like "almost" or "close" and make continual adjustments to make sure that the product comes out just right.
Ease Of Use

Out of the box, no assembly is required. Just plug the cord into the side of the unit and you're good to go. The only other supplied accessories are a textured rice spoon thingy (I'm sure there's a Japanese name for it), a rice measuring cup and a steamer insert just in case you prefer your Job's tears or green pickled gourd steamed instead of boiled.

But, it's a great rice cooker for sure. Panasonic makes fantastic products. I can't tell you how many of their electronic items I've owned over the years. This machine is no exception and the quality of the cooker is quite evident. Makes my simple "on and off" rice cooker look like it's from the stone age. The price is very reasonable as well. You can certainly compare it quite favorably to much more expensive rice cookers.

I wouldn't think to rate it less than 5 stars. If you're looking for a very high-quality rice cooker that can also do much more at a reasonable price, this is an excellent option for you.

I didn't really have it in mind to retire my old banged-up rice cooker. After all it still worked to some degree. However, when given the opportunity to take the Panasonic Microcomputer SR-DF101 Fuzzy Logic model for a test drive, things changed. After a little over three weeks of use these are my thoughts.

Out of the box, this white finished model comes with a steaming basket, measuring cup, rice scoop, instructions, recipes and warranty. After going over the instructions I was ready to begin. Right off the bat, I knew this was no ordinary rice cooker. The programmable menu options allow for making not only rice but soups, cakes, oatmeal and etc;.
Advanced Fuzzy Logic Technology is not rocket science by any means. Pure and simple it refers to the automatic adjustment of power and cooking time. It easily cooks up to 10 cups of rice.
Some of the features that make this a keeper besides the programmable menu are the carrying handle, the push-button lid release, and the easy on the eyes LCD Control Panel. I like the Dual Cooking and Warming Indicators. The unit automatically switches to the Keep Warm Mode after cooking is complete. I like that this cooker will automatically turn off after cycling through the 12-hour warm mode. The timer works like a charm. I can preset it up to 24 hours.
Design

Someone in the lab was really thinking when they designed this unit. The domed lid design helps prevent water droplets from falling on to the cooked product and cleaning is a breeze. Because it features a detachable power cord, you can do a quick clean without. The pan is aluminum and coated with a black nonstick surface. Power-wise, cooking rings up about 750 watts. In warm mode, its 52 watts of juice. So far we've made dumplings, soups, vegetables and cakes with great success. It works great at steaming fresh vegetables. Surprisingly the devil's food cake that we cooked came out extremely moist.
Overall

Overall I found that my older unit did cook rice faster than this Panasonic model. However, my older cooker also required constant monitoring because it usually overcooked and burned food. Time-wise, the Panasonic SR-DF101 Fuzzy Logic model is slower than my older unit. I can live with that because the Panasonic model delivers on perfectly cooked food each and every time. Without a doubt, it works as advertised. It's a keeper.
Hopefully, you enjoyed this post and, if you would like to find out more great ways to use your rice cooker, I have posts covering how to cook pasta, fish, or even lentils. Who knew that a rice cooker could be so versatile ?!
Prices pulled from the Amazon Product Advertising API on:
Product prices and availability are accurate as of the date/time indicated and are subject to change. Any price and availability information displayed on [relevant Amazon Site(s), as applicable] at the time of purchase will apply to the purchase of this product.