Why Aroma?
I have found Aroma to be one of the most consistent brands of rice cooker when it comes to quality and reliability so I was quite excited when I managed to get my hands on one of their new models – the Aroma ARC-610AC 12 Cup rice cooker with Saute then simmer functionality (whew! that's a mouthful!) . Now, as you know, I'm a huge fan of the Zojirushi rice cooker family but I realize that not everyone has a budget that will stretch to one of these models.
Any decent rice cooker ought to provide fantastic rice each and every time, without drying or burning – in fact most of us expect the same level of quality that you would get while eating out. Of course, we all want this for a budget price but is that really possible? Well, for a shade over 100 dollars, the Aroma ARC-610AC comes pretty close.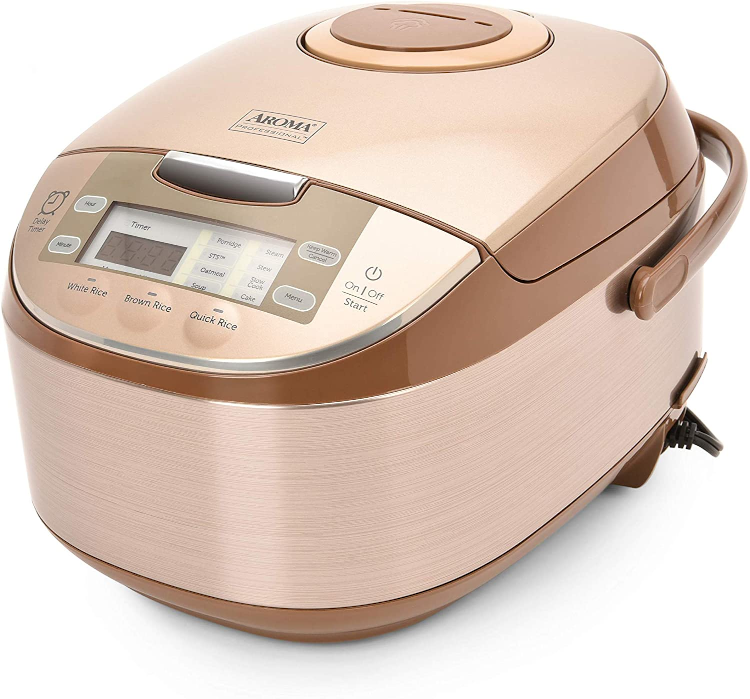 Features
Just look at some of these amazing features:
It features easy-to-use, programmable digital controls – I managed to pick up the most important settings without even referring to the manual. The displays are large, clear and easy to read.
It has all the usual features you would expect in a mid-range model ie automatic Keep Warm mode, White Rice, Brown Rice, Quick Rice, Steam and slow cook functions. These are all built in one-touch operations for simple operation.
It also features a few setting I've only seen on high end models such as Cake, Porridge, Oatmeal, Soup and Stew functions
Then there's a new one for me Sauté-then-Simmer – more on this below!
Supports a generous 6 cup (uncooked) capacity meaning most families will be fed in a single sitting
Steams meat and vegetables with the provided steam tray while rice cooks below
A very good cool touch outer skin meaning that no matter how long the cooker has been in use for, the chances of getting a burn or scald from the device are basically nil. This is a great feature for anyone with young children.
Accessories included: rice measuring cup, serving spatula and steam tray
Complex Manual – Simple Menus
The review model that I tested worked very well in practice and produced good, consistent results. However, I found the manual a little bit confusing (maybe it was just me though as most people who reviewed it on Amazon said how simple it was to use) and eventually I just resorted – as I usually do – to working my way around the built-in menu system on the large easy to read display. However, the menu system proved to be very easy to use so, really, I never actually needed to refer to the manual.
One thing to note about Aroma is that their cups measure differently from conventional measures. For those who don't like the rice sticking towards the bottom of the pan, just add an additional cup of water – depending on the kind of rice being cooked. Don't forget also to rinse your rice since this also makes a large difference, simply because it reduces starches and nutrients. Not to mention that if you're cooking your typical white rice (long-grain) usually get rice that has been imported from Thailand, never rinse it.
Saute Then Simmer
This is something I hadn't seen before and I have to say it's a great feature. This first-of-a-kind patented technology enables you to saute food at a high temperature and then automatically switches over to its simmer mode as soon as you add in liquid – very clever. This function makes great risotto and stir fry dishes without the fuss.
Steamer and Timer Make Cooking Easier
This model has a fully-featured timer and a neat steamer function which, when combined, means not only will your rice be of much better quality, but you will be able to cook a range of dishes from fish, vegetables, and even cakes at the touch of a button. This Aroma rice cooker really does have it all. Years ago, I started out having a black and decker brand and was a bit disappointed with it – although to be fair technology has moved on a lot since. I cook rice nearly every day, and by the time I get home from work, my rice cooker has already switched over towards the warm setting. All I need to do then to get the family meal ready is to cook up my chicken on the grill or stir fry it and we are done. And with the Aroma ARC6106 it really couldn't be any simpler.
Conclusion
I really liked this cooker. My review model was a natty champagne finish which, I have to say I wouldn't choose myself but it looked good and performed great. At around $100, you really will struggle to find a more cost-effective cooker with this level of versatility. Aroma make great budget and mid-range cookers and this one is no exception. Its generous capacity is big enough for most families and with the range of one-touch cooking programs available, there really is no excuse for poorly cooked food!
Highly recommended.
Aroma Housewares ARC-6106 Aroma Professional 6 Cups Uncooked Rice, Slow Cooker, Food Steamer, MultiCooker, Champagne
Cool touch technology – cook without the worry of leaving a hot appliance out on the counter. Our cool touch outer surface allows the cooker to be handled at any point during the cooking process without the risk of encountering a hot surface.

Meal versatility – the options are endless! Whether youre cooking Soup, steaming veggies, or preparing traditional rice, this cooker can handle it all without issue. This cooker also offers unique options that take your cooking experience one step further. You can prepare a number of sweet treats like tarts, cakes, and even yogurt using the 12 different functions available.

Additional features – this cooker also features our patented sauté-then-simmer technology, providing high heat sautéing followed by a simmer for liquids. There is also the option to steam vegetables and meats while rice is cooking below for the most efficient single-pot meals. In addition, this appliance features easy-to-use, programmable digital controls with an automatic keep Warm setting, high and low slow cook settings, a cake function and much more.

Accessories – The ARC-6106 comes with an inner pot, steaming tray, rice measuring cup Soup Ladle, and plastic rice paddle.

Included components: Rice cooker Manual

Perfectly prepares 4 to 12 cups of any variety of cooked rice. Power Consumption- 120V/60Hz 600W

Steams meat and vegetables while rice cooks below

Easy-to-use, programmable digital controls with automatic Keep-Warm and White Rice, Brown Rice, Quick Rice, Steam, Cake, Porridge, Oatmeal, Soup, Stew and Slow Cook functions

Sauté-Then-Simmé function provides high heat sautéing the automatically switches to simmer once liquid is added

15- hour Delay Timer for flexible meal planning
Prices pulled from the Amazon Product Advertising API on:
Product prices and availability are accurate as of the date/time indicated and are subject to change. Any price and availability information displayed on [relevant Amazon Site(s), as applicable] at the time of purchase will apply to the purchase of this product.