Yum Asia is a leading manufacturer of high-quality rice cookers, based in the United Kingdom. Founded in 2008 by a group of passionate rice enthusiasts, the company has quickly gained a reputation for producing some of the best rice cookers on the market.
Yum Asia's products are known for their durability, ease of use, and exceptional performance. The company offers a wide range of rice cookers, from basic models to high-end machines with advanced features, such as fuzzy logic technology and multi-cooking capabilities.
What sets Yum Asia rice cookers apart from other brands is their attention to detail and commitment to quality. Each rice cooker is designed with the needs of the user in mind, and the company goes to great lengths to ensure that every product is of the highest standard.
Yum Asia rice cookers are also known for their versatility, as they can be used to cook not only rice but also other grains and dishes such as porridge, soups, and stews. With a focus on innovation, durability, and performance, it's no wonder that Yum Asia rice cookers have become so popular among home cooks and professional chefs alike.
The YumAsia Panda Mini Rice Cooker is a compact, stylish, and versatile kitchen appliance designed for small households or individuals who love perfectly cooked rice
Read More »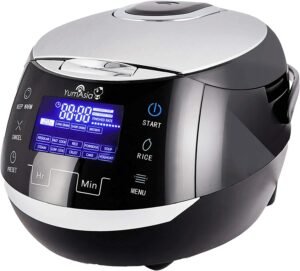 Hi there! As someone who loves to cook and experiment with new recipes, I recently purchased the Yum Asia Sakura Rice Cooker with Ceramic Bowl
Read More »
"The Yum Asia Panda Mini Rice Cooker brings style, efficiency, and versatility to your kitchen with its compact design, advanced fuzzy logic technology, and range
Read More »