Today I will be taking a look at a mid range rice cooker from Panasonic – the Panasonic SR-CN108 5 Cup Cooker. What I love about this cooker is how simple it is to operate but, because it features fuzzy logic, it still produces great results – and all for a very affordable price. Lets take a closer look.
About This Model

Panasonic has been around for many years, and they make all sorts of appliances and goods. They have a solid reputation for creating quality electrical goods – TVs in particular, and a couple of years ago then begun to include rice cookers in their kitchen appliance range.
The model I will be taking a look at today is a nice looking 5 cup uncooked rice cooker with a contemporary style. First of all, thats a good capacity and is enough to feed most households in a single sitting.
This model comes in at features a retail price of just over $120 – although you can find it cheaper online – and has a large array of options and settings. The most interesting feature of this model, however, is that it has integrated fuzzy logic cooking technology. For anyone who doesn't really know what fuzzy logic is, this rather strange sounding term basically means the machine constantly monitors the cooking of the rice, and alters and adapts the temperature and time so that you get perfectly cooked rice every time. My experience with fuzzy logic rice cookers is very good so far, so it was with some degree of excitement that I looked forward to seeing how it would perform on this model.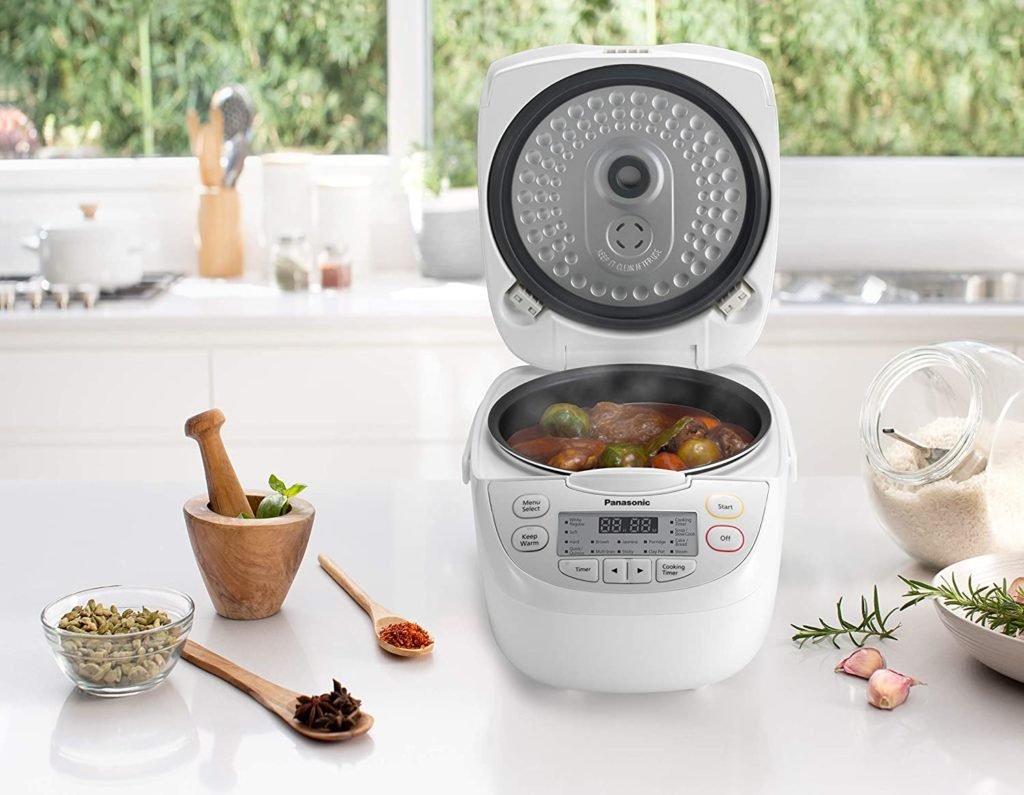 In addition to that there will be sort of different settings and buttons to play around with. This unit features 16 pre-set cooking programs which enable you to automatically cook a variety of rice including White, quinoa, , brown and jasmine rice as well as a specialist setting for multi grain slow cook. It really makes for simple one-touch operation and is a great time and hassle saver. The Panasonic SR-CN108 is great for beginners and experienced cooks alike and, we found the it produces very good results time after time.
Handy Timer Function

There's also a 24 hour timer which is very handy for all of you who prefer to set things up in advance whether you like to waken up to tasty porridge or come home to freshly cooked rice. The keep warm functionality also works for as long as 12 hours. We should note that there's a heater on underneath the lid, and upon the side which heats the rice.
This really is as compared to cheaper models, which simply heat the rice coming from the bottom from the unit which could result in dry and overcooked rice in the bottom from the pot.
The unit is white and is made from hard wearing plastic which fells a little bit tacky comared to some competing models but is easy to clean and is fairly modern looking so it won't look out of place in a contemporary kitchen.
There's a handle for easy transportation, and also the cord is detachable which is a really nice touch and makes for easier storage.
It features a detachable inner lid and steam vent which can be easily removed for cleaning and since the inner pot is coated with a nonstick coating this really is one of the easiest to clean cookers we have seen for some time.
Dimensions
The unit is a manageable 15.1 x 10.8 x 9.7 inches which eans it fits and works well on most countertops and has a 5 cup (uncooked) capacity which makes it suiatble for most daily use.
Accessories

Also included with the machine are a handy rice scoop, measuring cup and steaming basket. The included manual features a range of exotic dishes and is clear and easy to read.
Conclusion

A simple to operate, reliable and very capable machine at a decent price. What more could you ask for? Theres not really any significant downsides to the Panasonic SR-CN108 but if was to be asked for one I would say that the finishi could be better.
The basic white plastic will fade and crack over time and, compared to some other cookers on the market, particularly those with an aluminium finish it looks a bit cheap. Other than that, a very good buy.
Get It On Amazon
Panasonic 5 Cup (Uncooked) Rice Cooker with Pre-Programmed Cooking Options for Brown Rice, White Rice, and Porridge or Soup - 1.0 Liter - SR-CN108 (White)
6-Layer inner pan for even cooking The resilient non-stick aluminum-coated inner pan is designed to withstand years of continual heat and use and is easy to clean
16 pre-set cooking programs automatically cook a variety of rice including White quinoa quick brown rice jasmine rice multi grain slow cook and more
Detachable inner lid and steam vent the inner lid and steam vent can be easily removed for cleaning and installed thereafter
Easy viewing White LED display The bright White LED on the top panel provides clear view anytime of the day and simple operation
Additional features 12-hour keep Warm feature gourmet accessories include adjustable steaming basket rice scoop cereal scoop and measuring cup
Last update on 2021-09-16 / Affiliate links / Images from Amazon Product Advertising API