AI, machine learning, neural nets – it seems that technology buzzwords are everywhere these days – and they are growing in number. But one strange sounding term has actually been around for quite a while now – and whats more surprising is that it can be found, hard at work, right inside your rice cooker. Its called fuzzy logic and, believe it or not, it can help you make great rice dishes (as well as a few other applications of course!).
So, if you have heard the term but never really knew what it was or how it worked then its time to be amazed because, today, I'm going to try and lift the lid on this technology and explain how it helps with a fairly mundane task cooking a pot of rice.
So, What is Fuzzy Logic?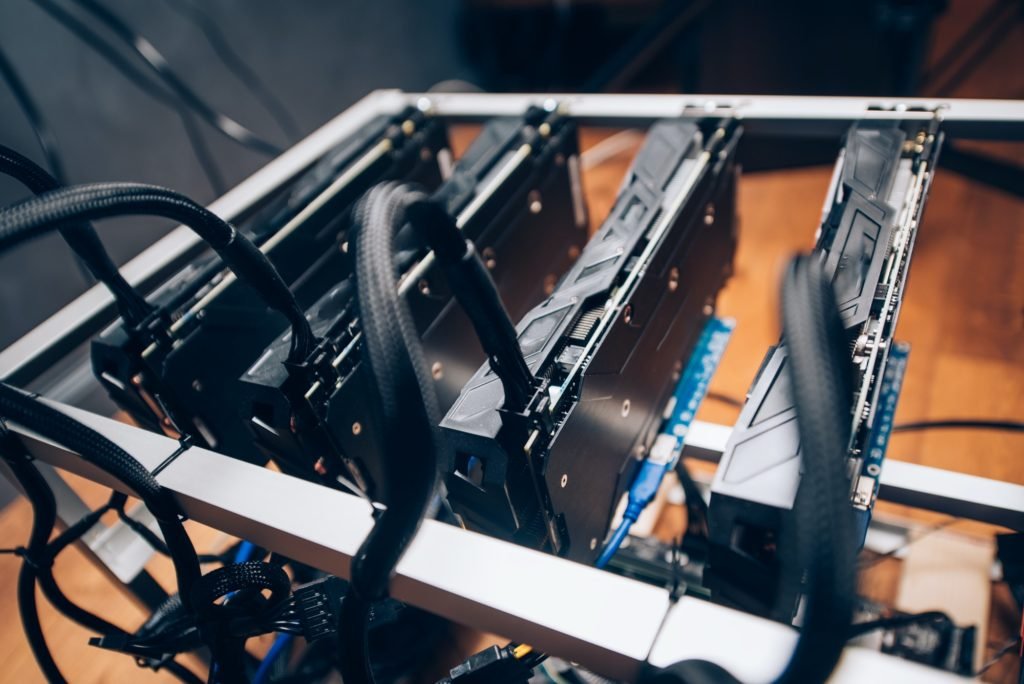 Well, first of all lets explain what its not.
Its not new!
Believe it or not, the concept of fuzzy logic was first developed in the early 1960s by Dr. Zadeh, a mathematician who coined the term while working on natural language parsing – in other words trying to make computers understand spoken language.
Understanding language is actually very complex and needs more subtlety than just the binary logic that computers are good at. So, Dr Zadeh looked at 'degrees of certainty' which is like saying the sliding scale between true (1) and false (0). So, for example, no heat would be 0 , full heat would be 1 but ideal heat might be, say 0.5.
Its actually a closer representation of how our brains work – most of us aren't 'full-on' or 'full-off'; we have degrees of opinions or actions in between. And so it is with fuzzy logic. But so what I hear you ask? Well, when it comes to the subtle art of cooking, it turns out that the application of fuzzy logic yields some interesting results.
Fuzzy Logic Applications
It turns out that when modelling the real world fuzzy logic is actually a better fit than just binary on and off. That's why its found its way into a whole range of interesting applications such as facial recognition, speech recognition and even more humble applications like temperature control on air conditioning units.
In fact, its pretty common to find this early AI technique in use wherever there's something to be measured, amended or controlled.
So, as well as advanced robotics and smartphones, you can also find fuzzy logic in many home appliances such as vacuum cleaners, washing machines, and, of course, rice cookers .
Advantages of Fuzzy Logic
Fuzzy logic is mainly used in controlling systems which have a number of variables (temperature, water level, time – getting the picture yet?) and it can make a lot of tasks that are, essentially, quite complex, a lot simpler.
Here are some advantages of fuzzy logic technology:
It can be very precise and yield repeatable, consistent results
Has many applications
Can be used in relatively complex (few variables) and very complex (thousands of variables) systems
It's widespread and cheap to implement through dedicated chips
Disadvantages
Of course, its not all a bed of rice – sorry roses. As with most modern tech, fuzzy logic also has a few disadvantages:
It requires computing power so can slow down systems
Doesn't work in true real-time
Its more expensive than not having it 🙂
Cheap FL can be error prone leading to unpredictable end results
Can increase power consumption
Here's a Video To Help Explain It
Fuzzy Logic Appliances vs. Non-Fuzzy
The Japanese love this kind of tech so, its no surprise that it features in many of their devices, including the humble rice cooker.
The cooker that I use myself, for example from Zojirushi features fuzzy logic. In fact, they use an enhanced version called 'neuro-fuzzy logic' which works exceptionally well. It's banished mushy and overcooked rice from my dinner table forever 🙂
Top 3 Fuzzy Logic Rice Cookers
While there are a lot of rice cookers on the market, this high-end tech only seems to appear in a select few – at least so far – but that number is increasing. If you would like to enjoy perfect results thanks to AI, then here are my top 3 recommendations for rice cookers with fuzzy logic.
Top 3 Rice Cookers With Fuzzy logic
Cuckoo CRP-DHSR0609FD Multifunctional and Programmable Electric Induction Heating Pressure Rice Cooker
This really is the Rolls-Royce of rice cookers (or is that the Rolls Rice). It features almost every tech you could imagine for a rice cooker – but it also has a price to match.
If budget isn't an issue then this is one of the best reice cookers you can currebntly buy. Its fully programmable and looks as good as it performs with a large blue LCD display and clear menu and navigation buttons on the front. However, you don't buy it for its looks – you buy it for the impressive tech.
It features an advanced, and surprisingly good, voice navigation that support for Korean, English and Chinese. Hows that for impressing your dinner guests!
The advanced fuzzy logic with intelligent cooking algorithm means it can detect the grain type and adjust the temperature and cook time to provide amazing results every single time. No mess, no hassle, no guesswork.
Its patented X-wall diamond-coated inner bowl provides an evenly distributed heat and, thanks to the induction heating system which offers fine control and an even heat, you really can't go wrong.
Its super easy to clean and comes with a cast iron guarantee from a respected manufacturer.
If I could give this model 6 stars, I would – it's that good.
If you shop around its possible to pick one up for a shade under $500 so it's not cheap – but if quality and consistency are your thing, then you simply cannot buy a better cooker today.
Sale
Cuckoo CRP-DHSR0609FD Multifunctional and Programmable Electric Induction Heating Pressure Rice Cooker, Fuzzy Logic and Intelligent Cooking Algorithm, 6 Cups Dark Grey
Efficient and Intelligent: Fully programmable, complete with a blue LCD display 14-cooking functions, it's your personal kitchen assistant. With voice navigation for Korean, English and Chinese. Built to last, full stainless steel, ventilation system.
Faster, Smarter Cooking: Hassle-free cooking is simple with fuzzy logic and the intelligent cooking algorithm it detects grain type, temperature and cook time. Utilizing induction heating, your favorite dishes are ready in no time without the guesswork.
Professional Quality: X-wall diamond-coated inner bowl brings the optimal temperature and heat distribution throughout your food. Non-stick non-scratch surface and easy one-touch cover lid release button allow for easy cleanup.
Safety First: We went the extra mile to ensure our electric rice cooker is as safe as it is easy to use! With automatic steam and pressure emission, a lid-locking device, auto temperature control and an alarm for overheating, we put your safety first.
Trusted Brand: With 40 years of experience Cuckoo has perfected the art of cooking rice. Join the Cuckoo community and enjoy your perfectly cooked rice, prepared in no time in your streamlined, stylish rice cooker that will compliment any kitchen.Capacity : 1.08 L / 6 cups
.
Tatung TFC-5817 Micom Fuzzy Logic Multi-Cooker and Rice Cooker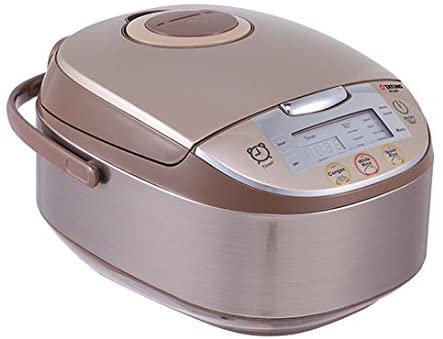 Tatung may not be a very well known brand but they do make solid devices and have been around for a long time. I love the look and feel of this model. Its compact, easy to clean and sports all of the usual features you would expect to find in a sub $90 rice cooker
It features a good 8 Cups (Uncooked) capacity so its big enough for most households It also has a keep warm mode, timer and nice, easy to read LED with 8 preset programs so, its scores well on usability.
Of course, it wouldn't be in this section if it didn't feature fuzzy logic – and I'm happy to report that I didn't encounter any issues at all when I used it. It's easy to program and gives consistently good results.
Its nowhere near the sophistication of the other 2 models in this section but, I have to say, I was pleasantly surprised by the Tatung and, if you are on a small budget or just want a no-frills cooker with fuzzy logic built in then this is the model for you.
Sale
Tatung TFC-5817 Micom Fuzzy Logic Multi-Cooker and Rice Cooker, Champagne
8 Cups (Uncooked).
Fuzzy Logic. Timer and LED Display.
8 Preset Cooking Programs
Brown Rice, Porridge, Slow Cooker, Steam, Stew, Soup, Oatmeal, Reheat.
3 Selected Quick Cooking Programs. Quick Rice Cooking, White Rice Cooking, Congee Rice Cooking
Zojirushi NS-ZCC10 Neuro Fuzzy Rice Cooker and Warmer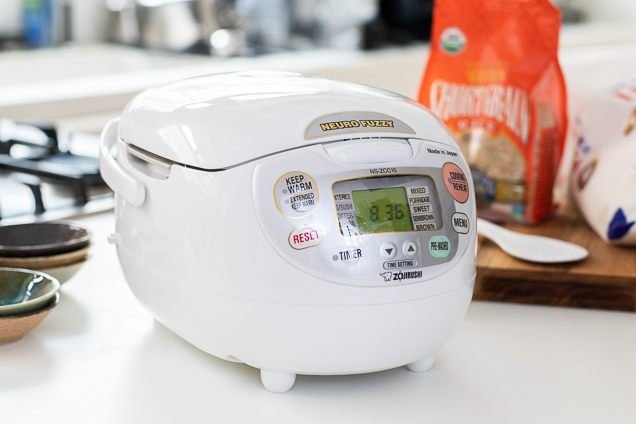 My favorite cooker of the 3 and the one I own myself
This cute looking little rice cooker is equipped with a clear, easy to understand digital control panel with big, bold, easy to use buttons.
Its easy to clean, compact and, of course features Zojirushi's famous build quality and reliability so you won't have any performance issues.
Most of the features are one-touch including the keep warm mode and reheat functions and it comes with a timer and an adequate , if not spectacular 5 1/2 cup (uncooked capacity). Personally, I've never found this to me an issue but if you regularly cook for larger groups then you may want to consider a bigger capacity cooker
But its the advanced fuzzy logic that really sets it aside in my book. The whole concept was originally devised by Zojirushi and they have been at the forefront of the technology ever since. I have never, and I mean never, burnt rice or suffered the indignity of under or over cooked rice while using this machine. Reliability and consistency are words that really don't do this rice cooker justice.
Its a tad on the pricey side but worth every cent in my book.
Sale
Zojirushi NS-ZCC10 5-1/2-Cup Neuro Fuzzy Rice Cooker and Warmer, Premium White, 1.0-Liter
5-1/2-cup computerized rice cooker and warmer with advanced Neuro Fuzzy logic technology. Wall mountable
Multi-menu selections; automatic keep-warm, extended keep-warm, and reheat cycles. Electrical Rating - 120 volts / 680 watts
Spherical, nonstick inner pan allows for uniform heating; LCD clock and timer; retractable cord
Menu settings include white (regular/sushi, softer or harder), mixed, porridge, sweet, semi-brown, brown, rinse-free and quick cooking
Measures approximately 14 by 8 by 9 inches; 1-year limited warranty, Dimensions (W x D x H) : 10-1/8 x 13 x 8-1/8 inches
Summary
Fuzzy logic sounds like something out of a sci-fi movie but, I can assure you, its here now, and it works a treat! By modelling the way that humans interpret and interact with the real world, this AI enables your rice cooker to make fine adjustments rather than decisions based on binary (0 or 1) logic.
What this means is a better, more consistent cook and great tasting rice with the right consistency – all controlled by the cooker and not relying on your 'skills'.
It might seem intimidation but, trust me, after you have used a rice cooker with fuzzy logic, you will never go back.
As always, I hope you found this useful and, if you have any questions or comments about fuzzy logic and how it works with rice cookers then please leave a comment below
Thanks again
Lily