If you want to enoy a meal of simple steamed vegetables or meat with rice, then the Zojirushi NHS-18 10-cup Rice Cooker and Steamer should be very appealing. Unlike some of the more advanced Zojirushi cookers on the market, the NHS-18 is a simple rice cooker. It comes with a steam tray for steaming seafood, fish, meat, eggs and vegetables and it can accommodate up to 10 cups of rice, which is suitable for a family of any size.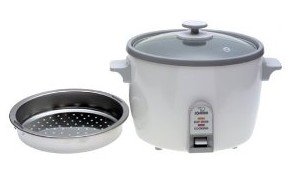 Some other great features on the Zojirushi NHS-18 10-cup Rice Cooker and Steamer are the maximum five-hour Keep Warm, a simple start push switch, a pair of heat resistant handles, a transparent glass lid, and a nonstick inner cooking wok. The Keep Warm function will be automatically activated at the completion of the cooking process. It also comes with some basic accessories such as a rice-measuring cup, a serving spatula, and an instructional cooking chart.
Most of the users who expressed an opinion on Amazon said that this Zojirushi NHS-18 10-cup Rice Cooker is very good at producing delicious rice but, being a simple cooker, there are some basic skills you need to master to get the best results. For instance, to avoid the rice bubbling and frothing over the top of the cooker during the cooking process, it is crucial to wash and rinse the rice thoroughly by using a strainer or sieve before cooking. Some users even recommended soaking brown rice for 30 minutes before cooking as this can prevent the brown rice from clumping and sticking to the bottom of the inner wok.
Conclusion
So, on balance, this Zojirushi NHS-18 10-cup Rice Cooker is simple to operate and cheap in price. Of course, it's a Zojirushi so reliability and build quality are second to none. If budget is your main concern and you only need a basic rice cooker that's simple to operate yet can produce excellent rice, then this rice cooker with a steam function will suit you well!
Zojirushi NHS-18 10-Cup (Uncooked) Rice Cooker,White
Cooks rice and keeps it warm up to five hours

Use also to steam seafood and vegetables and to cook custards and eggs

Measuring cup and serving spatula included

Uses 600 watts of power

9-1/4 inches high to lid knob; 13 inches in diameter, including handles

NOTE: Please ensure to measure rice in the cup that comes along with the product ONLY

Capacity is measured in the approx. 6 oz. / 180mL rice measuring cup, using raw short grain white rice. Other grains may vary.
Prices pulled from the Amazon Product Advertising API on:
Product prices and availability are accurate as of the date/time indicated and are subject to change. Any price and availability information displayed on [relevant Amazon Site(s), as applicable] at the time of purchase will apply to the purchase of this product.