If you love a good stir fry, homemade sushi, or basically any other dish made with tasty rice, but don't like the hassle of cooking it often, a rice cooker can be a really useful appliance. It can save you time with its automatic functions or even cook parts of your meal simultaneously. But which rice cooker will be the best for you? Luckily, my family loves rice in almost all our dishes, and in this short review, I have decided to take a look at one of the best-selling family-sized rice cookers on the market the Aroma ARC-914SBD.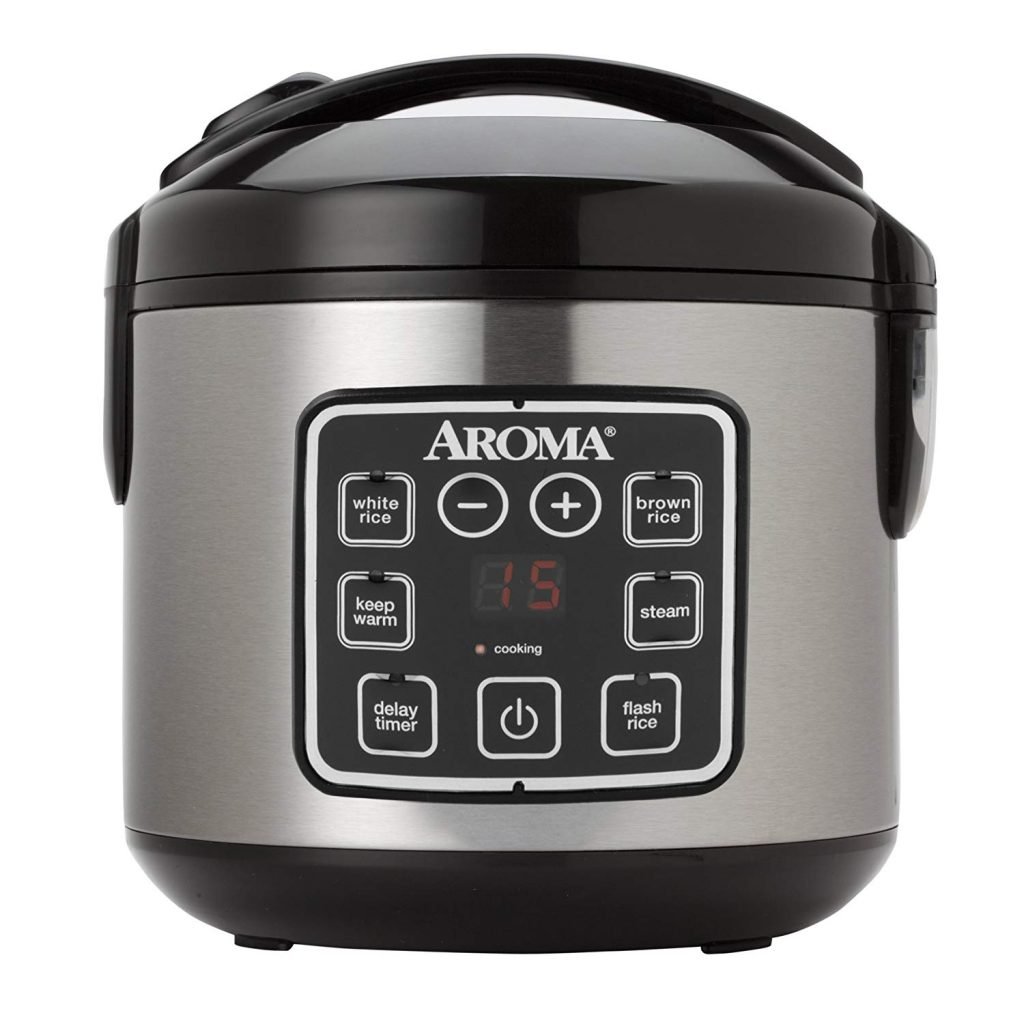 It is a large 8 cup rice cooker (4 uncooked cups) and it has easy to use functions with an intuitive design.  It has a delay timer with a range of 15 hours and programmable settings for steaming or for cooking different types of rice. You can also keep the rice warm with the cooker.
It has an extra steam tray and comes with a measuring cup and spatula. It also has dual functionality so you can cook rice and steam other dishes at the same time. So, that covers the features, but how does it perform in the real world? Well, I have listed the pros and cons and if you keep reading you will find my verdict on this Aroma cooker.
Features
It yields up to 8 cups of cooked rice
It can handle 4 cups of uncooked rice
It has easy to use functions
It has a delay timer of a range of up to 15 hours
It has different programmable settings for steaming, for different types of rice or keeping it warm
The inner parts are removable for cleaning
It comes with a BPA free plastic steam tray
It comes with a separate measuring cup and spatula
It has a dual functionality for cooking rice and other meals simultaneously
It has a black trim and stainless steel design
Dimensions: 9.3 x 5.8 x 8.7 inches (23.6 x 14.7 x 22 cm)
Weight: 4.2 pounds (1.9kg)
Pros
The delay timer is very useful
The on/off function is also very convenient
It is a really good mid-range cooker for its size
It works well with different types of rice and oatmeal
The timer is very handy and helps you to manage your cooking
It is easy to use and well-priced
The buttons are easy to understand and to use
It has a good capacity for rice and the steamer can handle quite a lot as well
Cons
It can be unreliable and not as durable after months of use
The brown rice cycle is not reliable and either overcooks or underheats
The steamer accessory is tricky to figure out and can overflow
There can be a lot of water left over after cooking
It can boil over easily and can be difficult to keep clean
Summary
This Aroma rice cooker is a great mid-range option if you want a little more versatility from your cooker. The simultaneous steaming and cooking feature is very convenient and the timer is a nice feature, especially if you want to come home to a meal that is seconds away from eating.
It can take a little experimentation to get used to how the cooker works and, in the beginning, you will need to play around with the quantities a little. It is one of the few cookers that have a clear on/off switch which I found very useful. It easily cooks different types of white rice and will ensure you can have oatmeal ready in the morning, just right for eating.
On the other hand, no rice cooker is without its quirks or faults. So in this price range you have to keep in mind that this cooker can have issues with its reliability, especially after months of heavy use. The steamer accessory is a bit tricky to get used to, and can cause overflow.
It has a tendency to lose its cool and boil over. This is a hassle and makes it difficult to clean and detracts from the convenience. Unfortunately, if you love brown rice, this cooker is not up to the task. The brown rice cycle either does not give you fully cooked rice, or it can burn to the bottom of the pot.
The final verdict
The Aroma Housewares ARC-914SBD is a cooker that will respect your wallet. It is well-priced and comes with a good range of features and a good level of performance for a mid-range option. It will serve you well if you prefer to cook white rice types, from basmati to jasmine, and other cereals like oats. But it does not really perform well with brown rice and can throw a tantrum by boiling over if you don't follow the instructions very carefully.
As a mid-range rice cooker, for someone who doesn't want to cook brown rice often, it is a great choice. The timer is very useful and I think it is one of the best parts of this cooker. It has a beeper to tell you when it is done, and you can wake up to a warm bowl of oatmeal, or come home after a long day to rice and veggies ready for you to enjoy.
If you are fine with a rice cooker that does not handle brown rice well, but performs in all the other ways you need it to. This is a good option, but if you dislike cleaning and want to know that you will never have to deal with something that boils over, this may not be the cooker for you.
Prices pulled from the Amazon Product Advertising API on:
Product prices and availability are accurate as of the date/time indicated and are subject to change. Any price and availability information displayed on [relevant Amazon Site(s), as applicable] at the time of purchase will apply to the purchase of this product.