One of the most common questions I get asked is can I cook pasta in a rice cooker? Well, I am happy to report that cooking pasta in a rice cooker is an easy and efficient way to make your favorite Italian dish. The steps are straightforward and can be done in less than 10 minutes. All you need is the right equipment, fresh ingredients, and, naturally, a great recipe!
If you are wondering if rice cookers are versatile appliances then, of course, the answer is a resounding yes! Rice cookers are time-saving appliances that you can use if you are eating rice on a regular basis but they are far from being a one-trick pony.
Once you have a rice cooker, you will want to experiment more and more with different recipes and you will learn tricks for how to get the best results in the easiest fashion. Another benefit of a tabletop rice cooker is that it is the best option for when your stove or the pots that you cook in are not available for you to use e.g. when they are dirty, in use or even broken.
Our Top Rice Cookers for Pasta
Image
Title
Price
Prime
Buy
Click to Edit

Top

TIGER JBV-A10U 5.5-Cup (Uncooked) Micom Rice Cooker with Food Steamer Basket, White

Prime

Eligible

Buy Now
Best Overall

Top

Top

IMUSA USA GAU-00013 Electric Nonstick Rice Cooker 8-Cup (Uncooked) 16-Cup (Cooked), White

Prime

Eligible

Buy Now
Best Budget Model

Top

Top

Yum Asia Panda Mini Rice Cooker With Ninja Ceramic Bowl and Advanced Fuzzy Logic (3.5 cup, 0.63 litre) 4 Rice Cooking Functions, 4 Multicooker functions, Motouch LED display (US Version)

Prime

Buy Now
Best Ceramic Cooker

Top

Top

Zojirushi Neuro Fuzzy Rice Cooker, 5.5-Cup, Premium White

Prime

Eligible

Buy Now
Best Fuzzy Logic

Top

Zojirushi NP-HCC10XH Induction Heating System Rice Cooker and Warmer, 1 L, Stainless Dark Gray

Prime

Eligible

Buy Now
Best High End Model
Product prices and availability are accurate as of the date/time indicated and are subject to change. Any price and availability information displayed on [relevant Amazon Site(s), as applicable] at the time of purchase will apply to the purchase of this product.
Prices pulled from the Amazon Product Advertising API on:
As well as cooking rice (naturally!) you may be surprised to learn that your rice cooker is also able to cook different types of pasta as well. The process of cooking pasta is as easy as cooking rice. One thing though, make sure that your rice cooker will handle the amount of the pasta when it is cooked because its volume doubles when it is fully cooked.
Make sure to add the right amount of water. You should aim to cover the pasta with water and leave just a few centimeters extra on top, but if you really like to eat the pasta al dente, then you can simply fill the bowl with water. The main thing is that no matter how you like your pasta cooked, a rice cooker can cook a whole pasta dinner.
Cooking pasta in a rice cooker can be done with any model that follows the manufacturer's cooking instructions. However, it is recommended to use Zojirushi or Panasonic rice cookers when making spaghetti or indeed, any other kind of pasta because they have induction heating systems that evenly distribute heat throughout the inner pot for better results.
Cooking just pasta
You can cook just the pasta with the rice cooker and then make your sauce separately. To do this, you have to add water to the cooking bowl, usually between 6 to 8 cups of water for about half of a pound of pasta.
Add the pasta into the bowl with a pinch of salt and then transfer the pasta into the pan. You should stir the pasta a little so that it will not get stuck on the bottom of the bowl.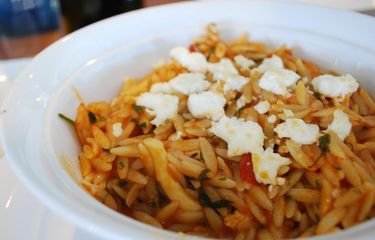 All you need to do then is put the lid down and let the cooker prepare the pasta for 8-12 minutes, depending on your taste. You should taste the pasta to see if it is done as it cooks. A simple way to test if the pasta is cooked is to throw a (small!) piece at the wall and if it sticks, then it's good to go. (Just remember to take it off the wall :))
After it is cooked to your own taste, drain the water and separate the pasta. You should move quickly after this step and mix the pasta with the pasta sauce so it will not get dry.
Cooking a one-pot meal
There are a few cool ideas that you might want to try when cooking a full meal in a rice cooker. First of all, add some olive oil into the cooking bowl and let it warm up by covering the bowl with the lid.
After the oil gets heated up, you can go to the next step and add a few chopped or sliced vegetables (onions, garlic, peppers) and let them sauté in the oil. Of course, feel free to add whatever vegetables you like and you think will work for the dish in question (you can dice squash or why not, zucchini).
If you enjoy eating ground meat, meatballs, or any type of sausage, you can add some of them into the mix. After the mixture is sautéed, you can take the vegetables and the meat from the cooking bowl and place it on one side.
You can then add your favorite type of pasta and some water into the cooking bowl. You can also add a little bit more olive oil. If you decided to use spaghetti, you probably want to break the strands in half, because otherwise, they will not fit in. Or, you can boil a kettle and soak the strands in a bowl until they are soft and pliable. When you want to cook about 7 ounces of pasta, you need to add about 2 cups of water.
After this, add some pasta sauce from a jar. You can use any type of sauce, depending on your preferences. To get closer to the final product, you want to add the mixture from the beginning back to the cooking bowl, over the pasta sauce.
Feel free to add any flavorings if you want to and cover the bowl and let the appliance do some more cooking on the whole mixture. You will notice that most cookers after they are done with the cooking process, will turn to their warm mode and will keep the food at a pleasant temperature; after all, you do not want to serve a cold meal.
What are some common mistakes people make when cooking pasta in a rice cooker?
Some common errors when cooking spaghetti in a rice cooker are not following the instructions found on the user manual, using too much sauce or oil, and waiting for an extended period of time before taking out the noodles. Be sure to read your rice cooker's instructions carefully so you will know when it is done cooking. If you notice that the spaghetti is still too hard for your liking, you can add a few more minutes to the cooking time.
Do I need to use the lid of my rice cooker?
You do not have to use your rice cooker's lid when cooking pasta. However, it is recommended that you cover the pot with aluminum foil before placing it on top of the machine's inner pan. Make sure there are no holes in the foil.
Is it necessary to add water?
You do not need to add any additional water for cooking spaghetti or other types of pasta noodles, except if specified by your particular rice cooker model's instructions manual. The size and quantity of ingredients will cause enough liquid (from the sauce) to mix with the starch in the noodles, which results in a perfect pasta dish.
Can I reheat pasta?
You should never reheat spaghetti or other types of noodles that have already been cooked and stored in the refrigerator overnight unless you are planning to eat them within a couple of hours after cooking. This is because when these kinds of food items are reheated, they lose nutritional value and may cause health problems. However, if you think it's safe to do so then reheating cooked pasta is easy and only requires a few steps:
remove leftovers from the refrigerator;
place inside a microwave-safe dish or bowl;
add some milk, oil or butter for added flavor/richness before microwaving on high heat for about a minute;
stir and taste, adjusting the ingredients as needed before serving.
How long should I cook pasta in a rice cooker?
The right cooking time for most pasta, even spaghetti, in a rice cooker is around 20 minutes. You can also check if the noodles are ready by taking one out of the pot and cutting it into smaller pieces to see whether or not it's cooked through. If you notice that the pasta is still too hard for your liking, you can add a few more minutes to the cooking time. Once it's ready, you can then pair it up with your favorite topping – here's a great recipe for spaghetti sauce with ground beef – a true classic.
How do I know if my rice cooker has reached its boiling point?
To check whether or not your rice cooker's water reached boiling point (100°C/212°F), place one drop of water on the surface of the pan. If it quickly evaporates or you hear a sizzling sound, then your rice cooker is ready for cooking pasta noodles.
How long can spaghetti be stored in the refrigerator?
Spaghetti should not stay for more than a couple of days in your fridge because it will become dry, tough or mushy after sitting too long at room temperature. Be sure to store leftover pasta noodles inside an airtight container to avoid absorbing other food odors.
Conclusion
Having an innovative appliance like a rice cooker will bring many benefits to your home. You will notice in time that an appliance like this is very versatile and will help you with cooking rice and other meals, too. So, we have confirmed that  Rice cookers can cook pasta on their own and pasta dishes, too. If you want to find out how to cook other great (non-rice) dishes in your rice cooker then why not read my other posts such as how to cook oatmeal in a rice cooker, or how to cook buckwheat in a rice cooker. You will be amazed at just how versatile these devices can be.
Your food will be kept warm after the cooking process is done and you will not have to serve your favorite meal cold. Invest in a good rice cooker and benefit from its versatility.