If you are wondering if rice cookers are versatile appliances then, of course, the answer is a resounding yes! Rice cookers are time-saving appliances that you can use if you are eating rice on a regular basis but they are far from being a one-trick pony.
Once you have a rice cooker, you will want to experiment more and more with different recipes and you will learn tricks for how to get the best results in the easiest fashion. Another benefit of a tabletop rice cooker is that it is the best option for when your stove or the pots that you cook in are not available for you to use e.g. when they are dirty, in use of even broken.
Our Top Rice Cookers for Pasta
[affegg id=15]
As well as cooking rice (naturally!) you may be surprised to learn that your rice cooker is also able to cook different types of pasta as well. The process of cooking pasta is as easy as cooking rice. One thing though, make sure that your rice cooker will handle the amount of the pasta when it is cooked because its volume doubles when it is fully cooked.
Make sure to add the right amount of water. You should aim to cover the pasta with water and leave just a few centimeters extra on top, but if you really like to eat the pasta al dente, then you can simply fill the bowl with water. The main thing is that no matter how you like your pasta cooked, a rice cooker can cook a whole pasta dinner.
Cooking just pasta
You can cook just the pasta with the rice cooker and then make your sauce separately. To do this, you have to add water to the cooking bowl, usually between 6 to 8 cups of water for about half of a pound of pasta.
Add the pasta into the bowl with a pinch of salt and then transfer the pasta into the pan. You should stir the pasta a little so that it will not get stuck on the bottom of the bowl.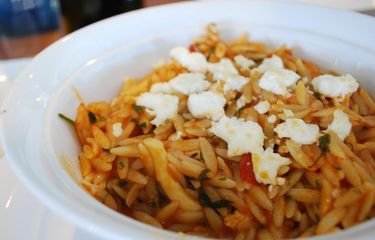 All you need to do then is put the lid down and let the cooker prepare the pasta for 8-12 minutes, depending on your taste. You should taste the pasta to see if it is done as it cooks. A simple way to test if the pasta is cooked is to throw a (small!) piece at the wall and if it sticks, then its good to go. (Just remember to take it off the wall :))
After it is cooked to your own taste, drain the water and separate the pasta. You should move quickly after this step and mix the pasta with the pasta sauce so it will not get dry.
Cooking a one-pot meal
There are a few cool ideas that you might want to try when cooking a full meal in a rice cooker. First of all, add some olive oil into the cooking bowl and let it warm up by covering the bowl with the lid.
After the oil gets heated up, you can go to the next step and add a few chopped or sliced vegetables (onions, garlic, peppers) and let them sauté in the oil. Of course, feel free to add whatever vegetables you like and you think will work for the dish in question (you can dice squash or why not, zucchini).
If you enjoy eating ground meat, meatballs or any type of sausage, you can add some of them into the mix. After the mixture is sautéed, you can take the vegetables and the meat from the cooking bowl and place it to one side.
BARILLA Blue Box Pasta Variety Pack, Farfalle & Rotini, 16 oz. Box (Pack of 8), 8 Servings per Box - Non-GMO Pasta Made with Durum Wheat Semolina - Italy's #1 Pasta Brand - Kosher Certified Pasta
FARFALLE PASTA & ROTINI PASTA: Variety pack of two unique and beloved Italian pasta shapes: BARILLA Farfalle and BARILLA Rotini
BARILLA PASTA: Made with 100% durum wheat and water to deliver great taste and "al dente" texture every time
CREATE DELICIOUS PASTA MEALS: Pair farfalle pasta and rotini pasta with a light tomato pasta sauce (with or without finely diced vegetables), a dairy-based pasta sauce, or an oil-based pasta sauce
QUICK & EASY TO COOK PASTA: "Al dente" perfection in 7-8 minutes (rotini) and 11-12 minutes (farfalle)
FREE FROM MAJOR ALLERGENS: This pasta is lactose, peanut, shell fish, fish, tree nut, and soy free; Suitable for vegetarians
You can then add your favorite type of pasta and some water into the cooking bowl. You can also add a little bit more olive oil. If you decided to use spaghetti, you probably want to break the strands in half, because otherwise, they will not fit in. Or, you can boil a kettle and soak the strands in a bowl until they are soft and pliable. When you want to cook about 7 ounces of pasta, you need to add about 2 cups of water.
After this, add some pasta sauce from a jar. You can use any type of sauce, depending on your preferences. To get closer to the final product, you want to add the mixture from the beginning back to the cooking bowl, over the pasta sauce.
Feel free to add any flavorings if you want to and cover the bowl and let the appliance do some more cooking on the whole mixture. You will notice that most cookers, after they are done with the cooking process, will turn to their warm mode and will keep the food at a pleasant temperature; after all you do not want to serve a cold meal.
Conclusion
Having an innovative appliance like a rice cooker will bring many benefits to your home. You will notice in time that an appliance like this is very versatile and will help you with cooking rice and other meals, too. So, we have confirmed that  Rice cookers can cook pasta on its own and pasta dishes, too.
Your food will be kept warm after the cooking process is done and you will not have to serve your favorite meal cold. Invest in a good rice cooker and benefit from its versatility.
Last update on 2021-09-16 / Affiliate links / Images from Amazon Product Advertising API