Are you looking for a rice cooker but you are on a tight budget? If so, then you may be pleased to find out that there are rice cookers on the market that are pocket-friendly and, in fact, as you will see below, its quite possible to find a decent one for under $20.
Having a rice cooker is really handy if you eat rice on a regular basis, no matter how many members are in your family.
Rice cookers come in lots of different shapes and sizes and have capacities that start from two cups of uncooked rice up to ten cups. Those that have a bigger capacity than ten cups are usually used in commercial kitchens. You certainly wont find any of those in the sub $20 bracket!
The good thing is that cheaper rice cookers, because they don't have a huge array of fancy tech are really easy to use. Almost anyone can use a cheaper rice cooker if they know how to measure the amount of rice and water and use an on-off switch.
Although you wont find any self-cleaning functions at this price point, the cleaning process is still straightforward as most of the sub $20 rice cookers we checked out have anti-stick coatings and removable cooking pans.
Note: Cleaning should be done after every cook because you do not want to get sick from the mold that can grow due to the moisture produced during the cooking process.
So, lets take a look at some of the best rice cookers for under $20 on the market right now.
Proctor Silex Rice Cooker & Food Steamer, 8 Cups Cooked (4 Cups Uncooked)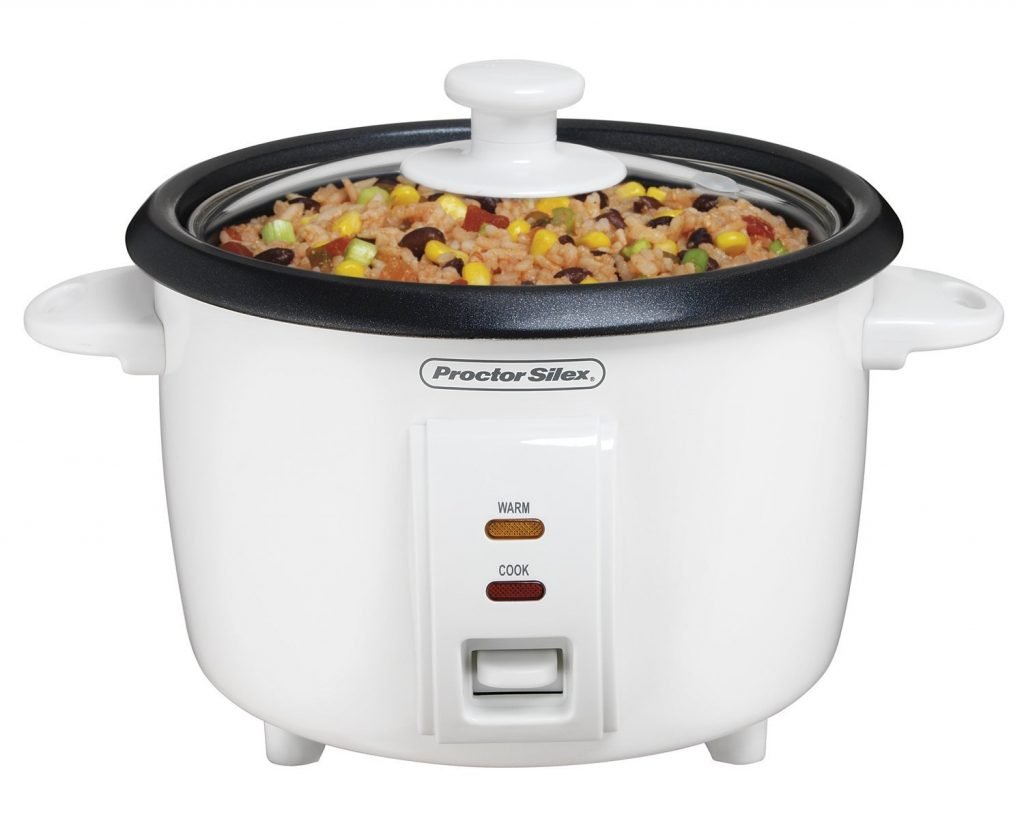 With a power consumption of 300 watts, the Protor-Silex 37534NR allows you to cook up to 8 cups of rice and keeps it warm and ready to serve.
These actions are controlled by the two easy to use settings , "Cook" and "Warm". The switch from the "Cook" mode to the "Warm" takes place automatically and the current state is indicated by one of the two indicator lights on the front of the cooker.
In order to make life easier you don't have to be stuck in the kitchen checking these lights because this cooker also features a handy beep that will you know when the rice is done. We also love the fact that it comes with a glass glass lid so you will be able to see the whole process of cooking, from the beginning to the end.
Another great feature of this device is the non-stick surface of the bowl that is easily removable and it simplifies the job of cleaning it.
Its high quality finish and nostick cooking pot make it seem like a much more expensive model and it even comes with a handy steam basket which lets you cook fish and vegetables to create a complete meal in moments.
[affegg id=5]
Aroma Housewares ARC-363-1NGB 3 Uncooked Rice Cooker
This product comes in a trendy hard wearing black finish that will look great in any modern kitchen and is produced by the number one selling brand in the US – Aroma. Its not too bulky coming in at (10.4 x 11.1 x 8.1 in) and weighs about 3.7 lbs.
The 3 cup version is available for around the $20 mark but there are also 8, 14 and even 20 cup models available and, while they are more expensive (so I couldn't put them into this review) they are still very competitively priced. This rice cooker is a great home cooking appliance that is also a food steamer and can be used to cook different types of meals. This model also has a feature that will allow the finished result to be kept warm after the cooking process.
You will be able to enjoy a warm meal at any time, which is cool because nobody likes a cold meal. The appliance comes with a steam tray, a measuring cup that you can use to measure the rice and the water and of course, a spatula for serving.
[affegg id=6]
BLACK+DECKER RC506 6-Cup Cooked/3-Cup Uncooked Rice Cooker and Food Steamer, White
This device from Black & Decker (yes the same guys that makes my husbands lawnmower :)) is unbelievable value for money. Recently, I've seen them for sale for as little as $13 and when you consider that they can cook up to 6 cups of rice, soup or stir fry with just one touch of a button and feature a warm mode, then you will appreciate how good value this model is.
The B&D RC506 also includes a removable non-stick pot, a tray that you can use for steaming, a glass lid that has a vent included, a measuring cup that you can use to measure the exact amount of rice and water that you want and a paddle that you can use to mix everything. Awesome value.
[affegg id=7]
Conclusion
Hopefully you can see that you do not have to go on a huge spending spree in order to get a good quality rice cooker. The rice cookers presented in this article are some of the best that you can find on the market at a budget price.