When it comes to quality rice cookers, there's one name that always sticks out above the rest – Zojirushi.
As the name suggests, the Zojirushi NS-LGCC05XB Micom 3-Cup Rice Cooker and Warmer manufactured is aimed at smaller families and general, everyday use. With a 3 cup uncooked rice capacity, it's perfect for single meals or couples and features a smart, modern look with the usual great attention to detail and build quality that Zojirushi has become famous for.
The Detail
A quick glance at the Amazon reviews for this product reveals that people like this cooker as it enables them to cook the right amount of rice in an easy way. It features a smart, easy to clean steel housing and has the distinctive sleek outer appearance that fits in with any contemporary kitchen. It also saves the countertop space with its optimum size of 11 ½ by 9 by 7 ¼ inches as well as its built-in retractable electrical cord which is perfect for those who have small-size kitchens.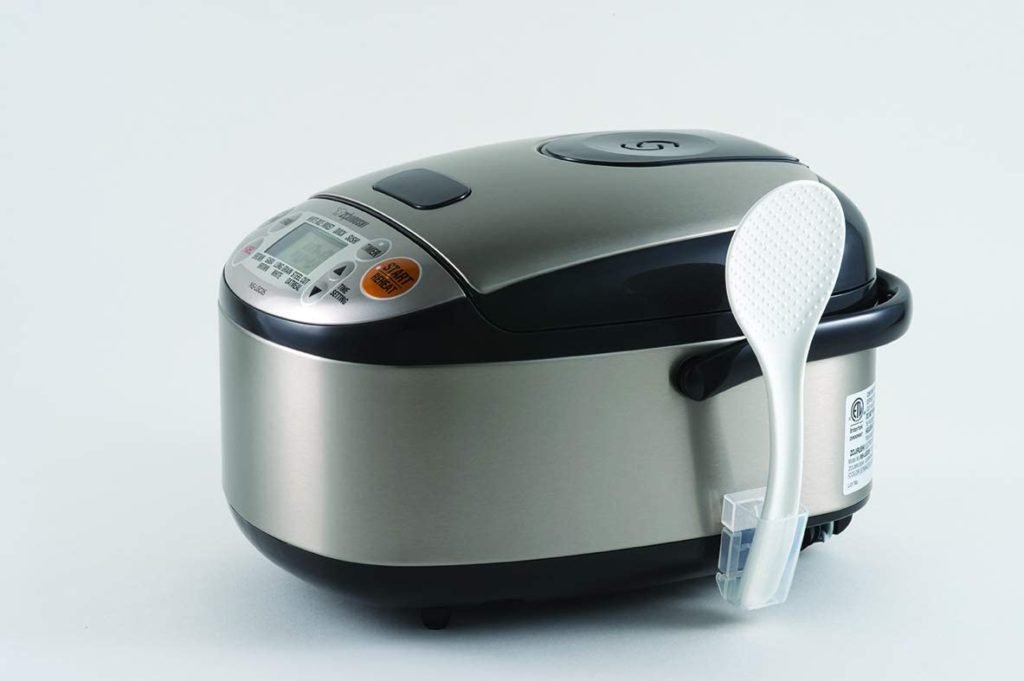 Zojirushi NS-LGCC05XB Micom 3-cup Rice Cooker Review
NS-LGCC05XB Micom 3-Cup Rice Cooker and Warmer has a large easy to read digital display and a reasonably clear menu system which offers a variety of one-touch cooking functions such as White, Sushi, Porridge, Brown and Quick Cooking. Again, looking at Amazon reviews reveals that users have indicated that it works well with different kinds of rice – something that I can back up from experience.
Like many models in the Zojirushi family, this one is equipped with Micro-computerized Fuzzy Logic Technology, which enables even heat distribution and unparalleled control of the temperature during the rice cooking process. It also features a unique triple-heater system which provides all-round heat by heating the bottom, side and lid. This results in a more even cook and, generally speaking, better results than other types of rice cooker.
Timer Function?
Most reviewers seem to agree with me that the Keep Warm and Timer functions are particularly useful, helping you to get good results and, of course, these also mean you can be flexible when you cook prepare and cook your meals. For example cooking oatmeal the night before and then waking up to a fresh, hot bowl of porridge the next morning – yum! The Timer will start the rice cooking process automatically, while the Keep Warm feature will maintain the ideal temperature of the rice and preserve its freshness until it is ready to be served.
Whats Included?
As I mentioned previously, the Zojirushi NS-LGCC05XB has an extra-large colored LCD display for easy setting selections and, of course, the famous Zojirushi song when the cooking process is complete. It also comes with a nonstick inner cooking pan and detachable inner lid that simplifies the cleaning processes. A one-year limited warranty and a wide range of rice cooking accessories are given away with the purchase of this rice cooker.
Conclusion
Suitable for couples and small families this model features an enviable array of optins and technology, thanks to its MICOM logic. This truly is a modern, compact and handy rice cooker that's suitable for the small to medium size family at a very reasonable price.
Prices pulled from the Amazon Product Advertising API on:
Product prices and availability are accurate as of the date/time indicated and are subject to change. Any price and availability information displayed on [relevant Amazon Site(s), as applicable] at the time of purchase will apply to the purchase of this product.