I have always loved Zojirushi rice cookers but I realize they aren't for everyone. although the feature leading edge technology – they were the first manufacturer to introduce fuzzy logic – their relatively high price – at least compared to other brands – kept them out of range of most folks budgets. After all, who needs an all singing, all dancing cooker when you can buy a rice cooker for as little as $20?
Sale
Zojirushi NS-ZCC10 5-1/2-Cup Neuro Fuzzy Rice Cooker and Warmer, Premium White, 1.0-Liter
5-1/2-cup computerized rice cooker and warmer with advanced Neuro Fuzzy logic technology. Wall mountable
Multi-menu selections; automatic keep-warm, extended keep-warm, and reheat cycles. Electrical Rating - 120 volts / 680 watts
Spherical, nonstick inner pan allows for uniform heating; LCD clock and timer; retractable cord
Menu settings include white (regular/sushi, softer or harder), mixed, porridge, sweet, semi-brown, brown, rinse-free and quick cooking
Measures approximately 14 by 8 by 9 inches; 1-year limited warranty, Dimensions (W x D x H) : 10-1/8 x 13 x 8-1/8 inches
Well, things are changing and its possible to pick up a Zojirushi model for well under $200 these days. Now, while that may still be a bit much for some folks, I'm sure you will agree that its not exactly breaking the bank, especially when you consider what you get for your money.
Anyway, today I decided to review one of the most popular Zojirushi cookers on the market, the NS-ZCC10 5 cup cooker and warmer with fuzzy logic.
Features
The Zojirushi Neuro Fuzzy Rice Cooker & Warmer features advanced Fuzzy Logic technology, which allows the rice cooker to 'think' for itself and make fine adjustments to temperature and heating time to cook perfect rice every time. Thats why, the Zojirushi models cook flawless rice every time .
This 5-1/2-cup rice cooker and warmer makes 10 cups of cooked rice and includes a variety of cooking functions comprising of white (regular/sushi, softer or harder), mixed rice, porridge, sweet, semi-brown, brown, rinse-free, and quick cooking. This unit features a thick, black spherical pan with stay cool side handles that provides even heating for better cooking.
There is a programmable melody or beep audio indicator to indicate when the cooking cycle has ended.
Other highlights include a detachable and washable inner lid, an easy-to-read LCD control panel, and automatic keep warm, extended keep warm and reheating cycle, delay timer with two settings and a built-in retractable power cord.
Accessories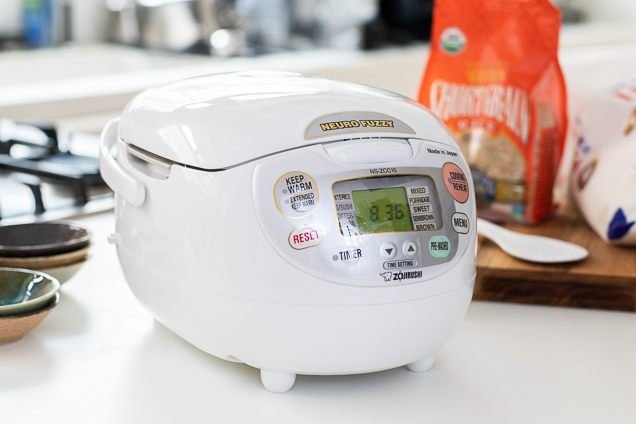 Accessories include a spatula, a spatula holder, and 2 rice-measuring cups (regular and rinse-free). It also features a handy retractable power cord to help the unit be stored easily.
Dimensions
The 680-watt rice cooker and warmer measures 10-1/8 by 13 by 8-1/8 inches.
Advanced Fuzzy Logic
One of the main selling points of the Zojirushi rice cooker range is that it uses fuzzy logic cooking technology. Micro computerized Advanced Neuro Fuzzy logic technology Menu settings include: white (regular/sushi, softer or harder), mixed, porridge, sweet, semi-brown, brown, rinse-free and quick cooking
Theres also a programmable melody or beep audio indicator, extra large Easy-to-Read color LCD display and automatic keep warm, extended keep warm and reheating cycle features. This cooker really has it all. Finally, the spherical inner cooking pan and heating system ensures even heating for perfectly cooked rice. I love it!
Different Kinds Of Rice
You really can make every rice type imaginable with a Zojirushi Rice Cooker. For example, a notoriously difficult type of rice to cook is brown rice – I covered this in more detail in this article but this cooker has a menu setting designed to cook delicious brown rice. In order to cook brown rice, preheating time is extended for better absorption of water, and is cooked at a lower temperature to allow the rice to cook longer without becoming mushy.
Sushi rice can also be difficult to get right – again I covered the basic here – but , thanks to the advanced programming on the NS-ZCC10, its a breeze. Because sushi rice will be processed after it's cooked, it's easier to handle when it is a little firmer so, the Zojirushi's menu setting is very similar to regular white rice, but uses less water (adjusted by the water fill lines) for a firmer finish.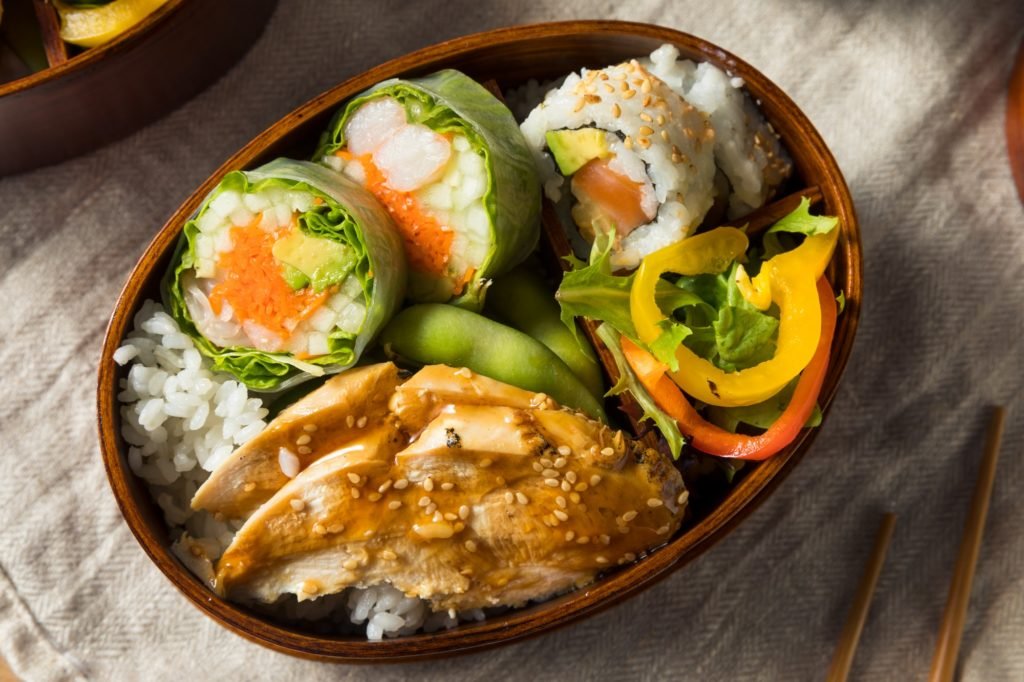 Mixed rice is rice which is cooked with additional ingredients and seasonings. This setting extends preheating for better absorption of seasoning. Also, the cooking temperature is slightly lower than regular white rice, to avoid ingredients from boiling over.
When it comes to cooking porridge, instead of cooking in larger amounts of water and risk making it sloppy, you can use the porridge setting to cook beautiful fluffy porridge. The cooking temperature is slightly lower than regular white rice which enables the oats to be cooked longer for a soft texture.
As well as rice and grains, you can also use the Zojirushi as a steamer. And, whats more, its very good at it. The steaming function can be lengthened or shortened by adjusting the time setting and the built in MICOM (Microcomputer) Technology takes having rice on your menu from "occasional" to "serious".
Which brings us on nicely to my favorite feature – MICOM
Basically, the microchip does all the thinking for you, as far as adjusting cooking times and temperatures are concerned.
The cooker automatically adjusts its settings according to the type of rice you are cooking, and timing the pre-soaking of the raw grains right through to the final "wait" . MICOM allows the cooker to have multiple functions on its menu, making it a must have feature if you are an avid rice fan who wants to incorporate rice into your daily diet.
How it Works
Conventional rice cookers simply turn on and off in reaction to temperature. However, the "fuzzy logic" of MICOM fine tunes this adjustment to adapt to various rice types, such as white, brown, sweet or porridge, which all have different cooking requirements.
The trigger to everything is the thermal sensor, a small round button at the bottom of the inner body of the cooker. As the inner pan's weight rests on it and activates the sensor, it starts the cooking process and keeps an eye on the temperature and time.
Conclusion
So, as you probably can guess, I love the Zojirushi NS-Zcc10. I realize its not for everyone and is definitely one of the more expensive models on the market. However, if you eat a lot of rice or are serious about getting the best results possible, you really cant go wrong with this cooker. With a host of features including built in AI, it really sets the standard other have to follow. With almost 4000 positive reviews on Amazon it seems that I'm not the only one who would by this cooker. 
Sale
Zojirushi NS-ZCC10 5-1/2-Cup Neuro Fuzzy Rice Cooker and Warmer, Premium White, 1.0-Liter
5-1/2-cup computerized rice cooker and warmer with advanced Neuro Fuzzy logic technology. Wall mountable
Multi-menu selections; automatic keep-warm, extended keep-warm, and reheat cycles. Electrical Rating - 120 volts / 680 watts
Spherical, nonstick inner pan allows for uniform heating; LCD clock and timer; retractable cord
Menu settings include white (regular/sushi, softer or harder), mixed, porridge, sweet, semi-brown, brown, rinse-free and quick cooking
Measures approximately 14 by 8 by 9 inches; 1-year limited warranty, Dimensions (W x D x H) : 10-1/8 x 13 x 8-1/8 inches