Washing up. We all hate it. And while most dishes can be thrown into the dishwasher, unfortunately, that's not an option with your rice cooker. So, if you have been scratching your head and asking "what's the best way to clean a rice cooker" then I have 3 amazing hacks that I use to get great results without spending hours scrubbing at the sink
So, if you are ready to make your life simpler then let's get started!
A Great Little Device I Use To Clean My Rice Cooker
Prices pulled from the Amazon Product Advertising API on:
Product prices and availability are accurate as of the date/time indicated and are subject to change. Any price and availability information displayed on [relevant Amazon Site(s), as applicable] at the time of purchase will apply to the purchase of this product.
One of the best things about a rice cooker is that you aren't limited to cooking just rice. In fact, you can cook all sorts of dishes like stews, soups, and even banana bread. That makes it one of the most versatile kitchen appliances that you can buy.
Great.
But there's a downside because some of these dishes can make the cooker very tough to clean.
How to Clean your Electric Rice Cooker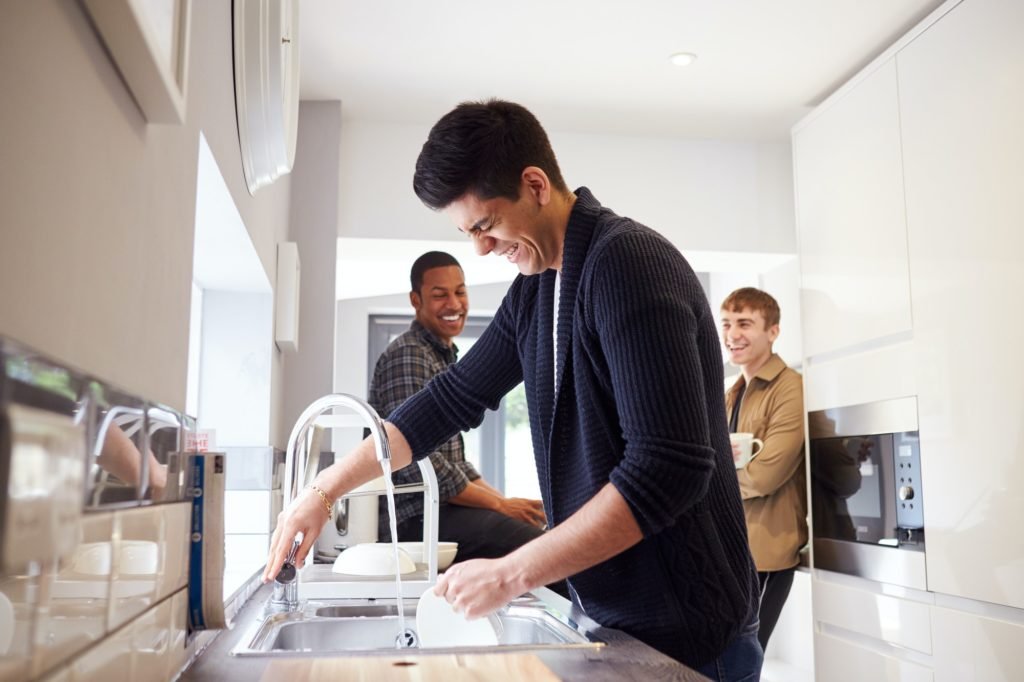 I love to use my rice cooker whenever I can, and I also love to experiment when it comes to cooking food. So, you can imagine some of the kinds of mess I have had to clean up over the years.
Cleaning up after cooking rice can be tough enough, especially if it's a starchy variety like Arborio rice – that almost always leaves a residue but, most of the time, it's a simple case of removing the inner pot and putting it in the dishwasher – not too much work.
Sometimes, I like to give the whole cooker a thorough, deep clean which involves the outer pot, inner pot, and other detachable parts but, of course, you have to take care when cleaning any electrical appliance so here's what I do
Unplug the rice cooker and let it cool down completely. This is very important as some of the components can stay hot for a long time after cooking and, whereas the outer wall will be cool you can burn your fingers on the inner parts so, I always leave my cooker to cool down for at least 30 minutes after I've used it.
Remove the inner pot.
Wash and clean the inner pot with dish soap and rinse it thoroughly. For stubborn stains you may need more powerful cleaners (see below). If there are food scraps left at the bottom of the pot (especially rice), don't scratch them off with a spoon as this will ruin the coating. Instead, put in hot water and let the pot soak for at least 10-15 minutes
Whereas most rice cooker parts such as the inner pot and the other accessories are dishwasher-safe you should never place the main body of the cooker in a dishwasher. Hopefully, the reason for this should be clear but let me just remind you that the sensitive electronics in most modern rice cookers do not react well to hot water and cleaning chemicals!
How to Clean the Outer Casing of Your Rice Cooker
Cleaning the outer casing only needs to be done whenever you feel like it. I prefer to clean it at least once a week unless, of course, there has been a spill – soup is particularly bad for this – and food has become stuck to the outside.
You need to remember that even cookers with sealed pushbuttons can be damaged by water ingress and, of course, cookers with raised 'separate' buttons are much more prone to damage so be careful. Always check the manual to see if your cooker might be damaged by harsh cleaning chemicals – most good brands come with clear cleaning instructions.
Again, here's what I do when cleaning the outer skin
Dampen a cotton cloth and wipe it across the exterior surface of the cooker – never spray anything directly onto the cooker – always spray it onto the cloth first. Also, don't use a harsh abrasive cloth. Instead a soft, cotton cloth or micro-fiber cloth will give the best results without damaging the surface.
Use a mild solution to remove stains and residue and then polish the surface
Once again, make sure that you have let the unit completely cooled down before cleaning.
3 Cleaning Hacks to Make Your Rice Cooker Shine
As you can see, cleaning your electric rice cooker is actually really simple. But, its a task that many of us put off. Like everything, the more often you do it the easier it is so don't be tempted to leave your cooker for long periods of time without giving it a good clean. If, however, you have ended up with troublesome or baked on stains, here are a few great hacks to help you get it gleaming again without using up too much elbow grease.
You can practically keep your rice cooker in its optimum performance and glistening look by following these 3 simple tricks!
Remove Unpleasant Odor Using Vinegar
Burnt on food can leave a nasty smell which can also affect the taste of your dishes. It's also hard to get rid of and, as I said above, you need to avoid scraping it off in case you damage your pot. However, help is at hand in the shape of a simple household item that nearly all of us will have – vinegar!
To get rid of unpleasant odors, I use distilled vinegar mixed with water – here's how it works.
For the cooker hot plate: Moisten a cloth with the vinegar solution then wipe it all over the hot plate until the debris is removed.
If the odor is affecting other components, gently remove them front the cooker body and soak them in the vinegar solution for at least 10-15 minutes.
Rinse the soaked parts with soap and water
Use Lemon or Baking Soda for Residue
Baking soda is a great cleaning agent. All you need to do is add a spoonful of it to your inner pot and then squirt some lemon juice onto it. Watch in amazement as the solution bubbles up and the grime is gone!
Because baking soda is an alkaline compound when combined with an acid such as lemon juice it produces carbon dioxide gas. These small bubbles of carbon dioxide gas become trapped in the soda, causing it to inflate, or rise, taking the dirt with it. It's actually a process known as cavitation and it's a powerful way to clean things – in fact, its even used to remove barnacles and debris from boats! Now that's powerful.
It's also very safe and easy to do – just leave it soaking for about 5-10 minutes before rinsing.
You'll be surprised by how effective lemon and baking soda solution is!
Let the Cooker Cool Down Before Washing
Allowing the cooker to cool down after use for about 30 minutes will not only save you from accidents but it will also and also make the device last longer!
Always remember to unplug the unit after cooking and let it cool down before washing. If you plunge a hot inner pot into cool water you can cause thermal stress which causes micro-cracks to form and, over time can break the pot. And, of course, you won't burn your fingers! Just remember to just wipe the electrical plates and remove the inner pot and its accessories before washing them separately.
Summary
The average rice cooker is a pretty simple device so it doesn't need much looking after but, because of the variety of dishes you can cook in one, you should know how to clean it properly – both for hygiene and maintenance reasons.
I wouldn't want to have to buy a new cooker just because I didn't look after my old one – and I'm sure you feel the same way.
Hopefully, the simple hacks and actionable advice I have shared with you will mean your cooker gives you years of trouble-free maintenance – and great-tasting food.
The cleaning materials are all readily available and cheap to buy so, really, you have no excuse.
Happy cleaning!
Hopefully, you enjoyed this post and, if you would like to find out more great ways to use your rice cooker, I have posts covering how to cook pasta, fish, or even lentils. Who knew that a rice cooker could be so versatile ?!