Are you a ramen lover looking for a quick and easy way to make flavorful broth?
Well, believe it or not, but you need look no further than your trusty rice cooker!
With just a few simple ingredients, you can create a rich and aromatic broth that will elevate any bowl of noodles.
Don't believe me? Well, follow this easy recipe guide and prepare to be amazed by the delicious results.
Plus, I'll give you the scoop on the best rice cookers for making ramen broth, as well as creative hacks to take your rice cooker ramen to the next level. Let's get cooking!
The Best Rice Cooker for Ramen Broth
When making rice cooker ramen broth, it's important to have the right rice cooker.
Thats because not all rice cookers are created equal – some are better suited for making broth than others.
Here are some key features to look for in a rice cooker when cooking ramen:
| Feature | Explanation |
| --- | --- |
| Capacity | Look for a rice cooker that can hold at least 6 cups of water. This will give you enough broth for multiple servings of ramen. |
| Keep Warm Function | A keep warm function will allow you to keep the broth hot and ready to use, without overcooking it. |
| Non-Stick Inner Pot | A non-stick inner pot will make cleanup much easier and prevent the broth from sticking to the bottom. |
If you're looking for a rice cooker specifically for making ramen broth, we recommend the Zojirushi NS-TSC18. This rice cooker has a capacity of 5.5 cups and features a keep-warm function, a non-stick inner pot, and multiple cooking settings that make it perfect for making broth.
However, even if you already own a rice cooker, don't worry – you can still use it to make broth! Just make sure it has a capacity of at least 6 cups and a keep-warm function.
Easy Rice Cooker Ramen Recipe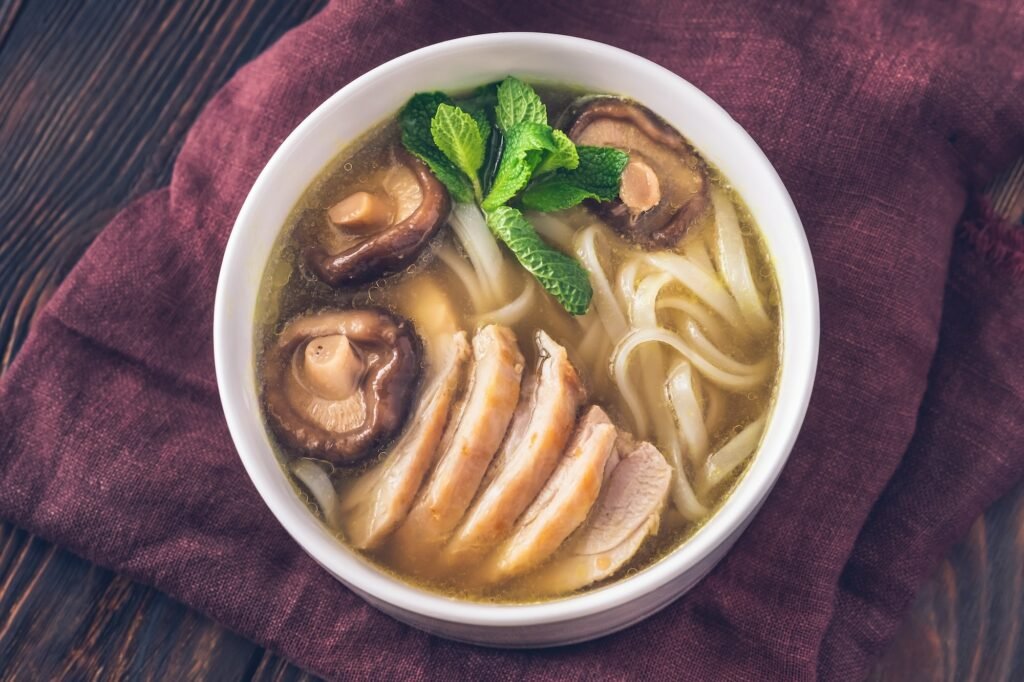 Craving a comforting bowl of ramen, but don't have the time or energy to make broth from scratch? Well, this hassle-free way to upgrade your instant ramen noodles or create a homemade ramen bowl is so simple to make it will amaze you!
Ingredients:
| Ingredients | Amount |
| --- | --- |
| Chicken or vegetable broth | 4 cups |
| Soy sauce | 1/4 cup |
| Mirin | 1/4 cup |
| Sake | 1/4 cup |
| Garlic | 4 cloves, minced |
| Ginger | 1-inch piece, sliced |
Note: You can also add other seasonings like chili flakes, miso paste, or sesame oil for extra flavor.
Instructions:
Add the broth, soy sauce, mirin, sake, garlic, and ginger to your rice cooker.
Set the rice cooker to the "cook" or "steam" setting and let it run for about 20-30 minutes, depending on your rice cooker model. The broth should become fragrant and infused with the garlic and ginger.
Strain the broth through a fine mesh strainer to remove the solids. Taste and adjust the seasonings, if necessary.
Use the broth immediately in your favorite ramen recipe or let it cool and store it in an airtight container in the fridge for up to 3 days.
Tip: Freeze any leftover broth in ice cube trays and pop them into a plastic bag for future use.
With this easy rice cooker ramen recipe, you can enjoy a flavorful and healthy bowl of ramen without any fuss. Plus, you can customize your broth with your favorite ingredients to create your own signature ramen recipe. Give it a try and surprise your taste buds!
Elevating Rice Cooker Ramen
If you thought that rice cooker ramen was limited to plain noodles and broth, think again!
With a few creative hacks, you can turn your humble rice cooker into a versatile tool for making delicious and Instagram-worthy ramen dishes.
Here are some ideas to get you started:
Rice Cooker Ramen Noodles
Who says that ramen noodles have to be boring? Experiment with different types of noodles, such as udon or soba, for a twist on the classic dish.
You can also add texture and flavor by tossing in some chopped scallions, sesame seeds, or even crushed potato chips.
Rice Cooker Ramen Soup
Transform your basic broth into a flavorful soup by adding in some meat, seafood, or vegetables. Try simmering chicken thighs or pork belly in your rice cooker before adding in the broth. For a seafood twist, add shrimp or scallops. And for a vegetarian or vegan option, try adding in tofu and vegetables like mushrooms and bok choy.
Rice Cooker Ramen Hacks
Get creative with your rice cooker by trying out some of these hacks:
– Use the "keep warm" function to gently cook a soft-boiled egg, which can be a tasty garnish for your ramen.
– Place a small dish on top of your rice cooker while it's cooking to steam some veggies.
– Cook your noodles in the broth for extra flavor and less cleanup.
Rice Cooker Ramen Bowl
Presentation is key when it comes to food, and ramen is no exception.
Prices pulled from the Amazon Product Advertising API on:
Product prices and availability are accurate as of the date/time indicated and are subject to change. Any price and availability information displayed on [relevant Amazon Site(s), as applicable] at the time of purchase will apply to the purchase of this product.
Elevate your rice cooker ramen by adding it to a stylish bowl and arranging your toppings in an aesthetically pleasing way.
You can use a mix of traditional ramen toppings like nori, soft-boiled egg, and bamboo shoots, or get creative with your own unique twists.
Rice Cooker Ramen Seasoning
Add some extra flavor to your ramen by experimenting with different types of seasoning.
Try adding some chili oil or soy sauce for an umami kick, or sprinkle on some furikake for a salty crunch. You can also make your own seasoning blends with ingredients like garlic powder, onion powder, and ginger.
With so many possibilities, rice cooker ramen is a dish that can be enjoyed in countless ways. Let your creativity run wild and see what delicious and unique ramen creations you can come up with!
Conclusion
With just a few simple ingredients and a trusty rice cooker, you can whip up a delicious and satisfying bowl of ramen broth in no time. Whether you're a college student on a tight budget or a busy parent looking for a quick and easy dinner option, rice cooker ramen is the way to go.
If you're new to using a rice cooker for ramen, be sure to experiment with different ingredients and seasonings to find your perfect flavor combination. And don't be afraid to get creative with toppings and add-ins to take your rice cooker ramen to the next level.
So next time you're craving a hearty and flavorful bowl of ramen, skip the expensive takeout and give rice cooker ramen a try. You won't be disappointed!