A question that I often get asked is which size of rice cooker to buy. Is a 3 cup rice cooker too small? Is a 20 cup rice cooker too big? I only need to cook a small amount or I eat lots of rice every day – which is the best one for me?
Well, a 3 cup rice cooker is a great size for many households and is , typically, the smallest size cooker you can buy.  You may be tempted to purchase a larger rice cooker for those times when you are entertaining or when you have the extended family around, but I would advise you to rethink this. 
Buying a smaller rice cooker that will serve your needs the majority of time actually makes sense.
They Save Space 
With counter tops being cluttered with an increasing selection of small appliances, it makes sense to conserve this valuable real estate by avoiding large bulky items. So, while purchasing a 10 cup rice cooker may seem like the best choice , many people are surprised by their large size, and you can quickly tire of looking at such a large scale piece of kit sitting (and getting in the way) permanently on your counter top. Storage is also a problem, especially in smaller houses or apartments where cupboard space can be limited.
They Save Money
If you have even had a cursory look around the stores or online for a 3 cup rice cooker you will have noticed the large price differential across different makes and models.  Take, for example, a rice cooker at the high end of the scale – in this case the Zojirushi, and compare that to one at the low end (the Black and Decker 3 Cup),and its easy to see where the extra money goes. The Zojirushi has additional features and technology and is easier to use and gives better results. Is it worth the extra $150 or so? Only you will be able to make that decision but it goes to show that even when looking at smaller devices such as 3 cup rice cookers you need to do your due diligence before buying.
Top of the Range – Zojirushi 3 Cup Rice Cooker
The Zojirushi 3 cup rice cooker (Zojirushi NS-LGC05XB ) sells for around $150, and is considered the Cadillac of rice cookers.  Among the many features that make these models so popular even with the relatively high price tag is the onboard  tech known as "Micom Neuro Fuzzy". I have discussed this before and its great. Basically, it enables the cooker to make adjustment throughout the cooking process so the rice comes out perfect every time.  This advanced feature allows you to cook any variety of rice, be it jasmine, white basmati, brown basmati, and brown/white mixes with ease.  No longer do you have to experiment to determine the proper cooking times for different varieties of rice – just select the program and sit back. 
Another feature that many people love about the Zojirushi 3 cup rice cooker is the timer and automatic warmer.   You can set up the cooker in the morning before work and come home to perfectly cooked rice.
Zojirushi NS-LGC05XB Micom Rice Cooker & Warmer, 3-Cups (uncooked), Stainless Black
Multi-menu cooking functions: Special settings for white/mixed riced, sushi rice, brown rice, GABA brown rice, long grain white rice, steel cut oatmeal and quick cooking
Triple heater (bottom, side and lid) generate heat all around for even heating.Up to 3 cups / 0.54 liter. Capacity is measured in the approx. 6 oz. / 180mL rice measuring cup, using raw short grain white rice. Other grains may vary
Dimensions (W x D x H):9-1/8 x 11-7/8 x 7-1/2 inches. Detachable and washable inner lid
Easy to store retractable cord.Interchangeable melody and beep signal
Removable steam vent cap allows for high-temperature cooking without messy overflows. Electrical rating : 120 Volts or 450 Watts.Micro computer automatically adjusts cooking temperature and time
Budget Range – Black & Decker 3 Cup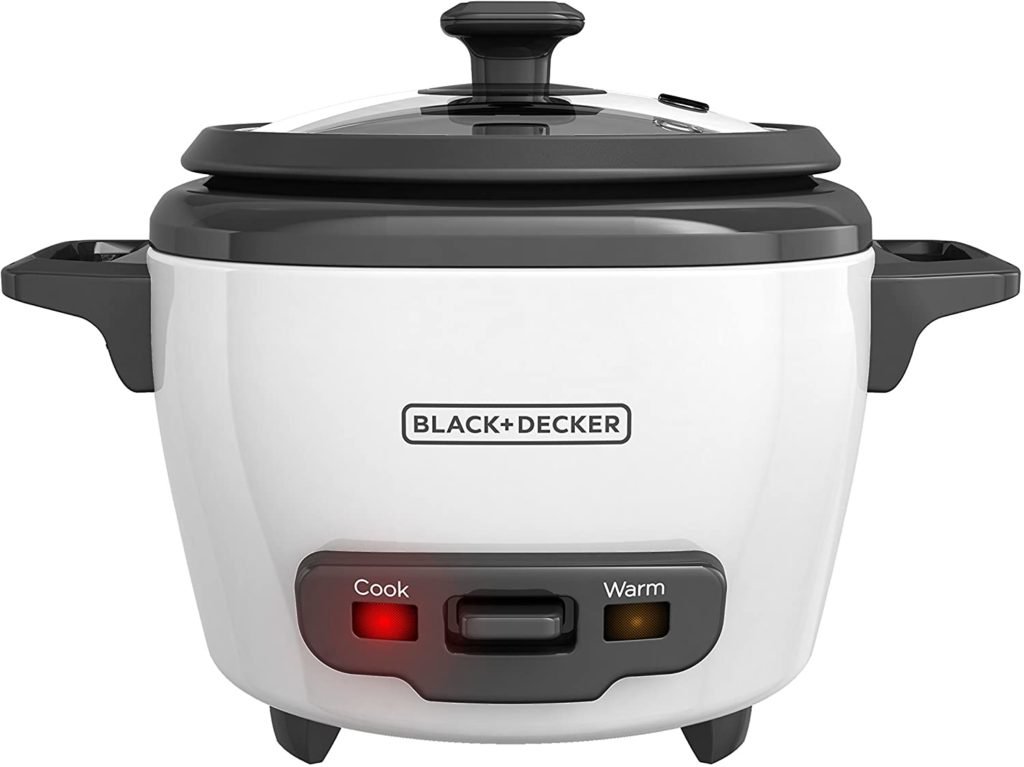 At the other end of the price scale , the Black & Decker 3 cup rice cooker retails for about $15 – which is one of the lowest prices you will find any cooker for. However, in spite of the low price many owners have found that this cooker serves their needs just fine,  If you cook the same quantity and type of rice on a daily basis, and have no need for such features as timers, warmers, and computer controls, then this will probably be ideal for you.  The Black and Decker is a basic cooker that has a good track record for reliability and longevity and, while the quality of the pan and non-stick coating is not up to par with the Zojirushi, its well built, comes with a good warranty and will definitely last you for many years. It only has 2 settings – cook and warm – but really, for simple rice dishes, thats enough.
BLACK+DECKER Uncooked Rice Cooker, 3-cup, White
6-Cup Capacity - Prepare anywhere from 1 to 6 cups of cooked rice, great for small or large meals, and for leftovers. ETL Listed
Automatic Keep Warm - The rice stays ready for serving! The rice cooker automatically switches to the "keep warm" function after cooking is complete.
Nonstick Rice Pot - The nonstick rice pot is completely removable for easy dishwasher cleanup. Dimensions are 10 x 9.0 x 5.5 inches
Food Steaming Basket - The included food steaming basket lets you make healthy meals with vegetables, fish, and more. Measuring Cup and Spoon Included - The measuring cup makes it easy to cook the perfect amount of rice, and the plastic serving spoon prevents accidental scratches to the nonstick rice pot. Note: use only the rice cup to measure rice, never a true cup.
Volts: 120V. Wattage- 200W
Honorable mention – 3 Cup Rice Cooker With Steamer
The Aroma Housewares 3-Cup Uncooked Pot Style Rice Cooker and Food Steamer in white gets an honorable mention here because its such good value for money. For around $20 you get a reliable no frills rice cooker from a trusted brand. Theres no fancy tech on this device – just a cook and warm switch – but with a stainless steel steamer pot thrown in theres no wonder this cheap and cheerful rice cooker has almost 20,000 positive reviews on Amazon.
Final Thoughts

Making a final decision regarding which 3 cup rice cooker to buy is dependent on a number of factors.  If you have the need for the advanced features that are included on cookers such as the Zojirushi, then the extra money is a worthwhile investment.  For many of us though, the final decision will not be so much based on features, but rather on price and, in that case, there are lots of great 3 cup rice cookers available for under $40. One final though, though, in my opinion, a rice cooker is a visible addition to your kitchen as, most of the time it sits on the counter top so it pays to have one that looks good – and for my money you cannot beat the looks of the Zojirushi.
Take care.
Hopefully, you enjoyed this no-fuss recipe. If you would like to find out more great ways to use your rice cooker, I have posts covering how to cook pasta, fish or even lentils. Who knew that a rice cooker could be so versatile ?!
Last update on 2022-11-23 / Affiliate links / Images from Amazon Product Advertising API