I'm going to deviate a bit from the norm today because in this post I am going to discuss a particular kind of rice cooker, one that doesn't plug into your wall and one that doesn't have a host of advanced programming and timer features. I'm going to discuss the ever-popular Staub rice cooker.
If you're looking for a high-quality 'manual' rice cooker, the Staub brand is one that should be on your list. This post will explore 11 things that make this brand different and what makes them worth buying. You'll learn about features like the heat distribution system and see why it's perfect for cooking other types of foods as well!
Staub rice cookers are made by hand in France! This process of creating finished products from raw materials is more expensive but the brand goes through all this trouble because they want to provide customers with appliances that are well made and beautiful. If you're looking for a high-quality cooker, this model is worth buying!
They are also known for their unique design. The French flair for design really shines through and, over the years, the company has created some of the best stoves, bakeware, and appliances on the market! So what makes these cookers so different? Let's find out together.
THE BENEFITS OF ENAMELED CAST IRON COOKWARE
The first thing you'll notice is that these cookers are made of enameled cast iron. This material is extremely durable and resistant to damage, even when it comes in contact with acidic ingredients like tomato sauce or tomatillo salsa! It's also non-reactive so flavors don't transfer between dishes. If you want one pan to cook all your meals, this is a great choice.
CAST IRON VS CAST STAINLESS STEEL
Some people will tell you that cast iron takes too long to heat up, while others might say it's difficult to clean. These are misconceptions about enameled cast iron stoves and shouldn't stop you from considering them as an option. While cast-iron cookware does take more time to heat up, this is a good thing because it means you'll be able to get your dish started at the perfect temperature without having to turn the stove on too high and risk burning your food! As for cleaning? That's easy as well with help from these tips .
THE SECRET OF THE STAUB LID
What makes Staub rice cookers so great is their unique lid with a special secret! The upper part of the cooker has an inlay that helps distribute heat evenly throughout your food. This allows for perfectly cooked meals every time you use them and it's one reason why these stoves are worth buying.
TEMPERATURE CONSISTENCY
What makes Staub rice cooker's heat distribution system the best in the business? It all comes down to consistency. The material conducts heat evenly throughout every curve and corner so your meal will always come out perfect. This is true even if you don't have a lot of cooking experience because the cookers will always do their job!
COOKING WINE IN A STOVE
Do you know what makes Staub rice cookers the perfect tool for cooking wine? It's all about their shape. When placed on a stove, they have curved sides that make it easy to pour out every last drop! While some people might consider this unnecessary, those who enjoy drinking fine wines will tell you that this is very important. If you're one of those people, these cookers are for you!
WHY YOU CAN COOK NON-STICK FOOD IN THEM
If you've ever tried to cook with a regular stove, then chances are that your food stuck to the bottom and it was difficult or impossible to clean afterward! This isn't an issue when you use Staub rice cooker because they have non-stick coating that makes it a lot easier to cook and clean!
Ok, so now let's take a look at 10 great reasons why you should own a Staub rice cooker.
They Are Larger Than Most Rice Cookers
A benefit that might not seem apparent at first, this feature offers more than just extra capacity for your rice or other foods. The design also makes it easy to stack Staubs or place them on top of each other. This is great if you want to save space in the kitchen which makes it perfect for small apartments and homes!
2. They are Versatile
If you're the kind of person who eats several different types of rice, it can be difficult to find a stove that will cook all these varieties. Staub rice cookers aren't just great for white and brown rice; they'll also handle wild rice as well as special blends! This is great news for people who want to experiment with new flavors and this feature alone makes these cookers worth buying.
3. A Beautiful, Distinctive Design
Staub rice cookers have a unique design that's based on ancient French traditions of enameled cast iron stoves. These designs will vary depending on the specific model you choose but most of them are beautiful with unique details. As a result, they're perfect for adding some charm to your kitchen!
4. Easy To Clean
What's great about enameled cast iron is that it cleans up easily without rusting or staining. This means you don't have to spend a lot of time cleaning them after each use. In fact, you can get your staub rice cooker clean with nothing more than water and soap! While this might not sound like much given that other cookers require special cleansers, it's still an important feature that makes these models worth buying.
5. Simple To Use
Cooking with a stove is always easier when you have the right tools. Staub rice cookers are incredibly simple to use and they'll give you great results every time! All you need to do is add some water, turn them on then wait for your food to finish cooking. This simplicity makes these cookers perfect even for people with little experience in the kitchen.
6. Hand Made From The Finest Quality Materials
It's all about quality when it comes to staub rice cookers and these machines are made by hand! This process of creating a finished product from raw materials is more expensive but this brand goes through all the trouble because they want to provide customers with appliances that are well made and beautiful. If you're looking for a high quality cooker, this model is worth buying!
7. Durable and Don't Warp
If you've ever owned a stove or an appliance of any kind, there's no doubt that it has warped at some point. This means it doesn't sit flat on the counter and can cause problems with cooking. Staub rice cookers have a special design that prevents warping so you never have to worry about these issues!
8. They Keep Their Value
While other brands might offer cheaper alternatives for people looking to save money, staub rice cookers are in a class of their own. They're durable and designed to last for years so you don't have to worry about buying new models every year or two. This makes them great investments that will provide incredible value over time!
9. They Are A Great Space Saver
Another great benefit of this brand is that their stoves are made to stack and placed inside the oven. This means you don't have to worry about using a different stove if you need to cook something else! If there's a big meal planned for your family or friends, all you have to do is prepare everything in advance and cook it in the oven!
10. Easy To Store
Last but not least, Staub rice cooker are easy to store when they're not being used for cooking. This is perfect if you don't have a lot of counter space or limited storage options inside your kitchen cabinets. All you need to do is lift the lid, lift up the stoves and fold down their handles. This will make it easy for you to tuck them away until you're ready to use them again!
A FEW MORE THINGS TO CONSIDER
While this post has already covered several reasons why Staub rice cookers are worth buying, there are still a few more things you should know. They include the fact that they're made by hand, come in several different colors and designs (so you can choose one to fit your personality) and are backed with a lifetime warranty! Hopefully, these 10 reasons are enough to convince you that you really should own a Staub rice cooker.
STAUB RECIPE IDEAS
Breakfast Fried Rice
Ingredients:
-Basmati rice -½ cup
-Mixed vegetables (onion, carrot, peas) -¼ cup or ½ cup of your choice.
-Eggs – two pieces to taste.
Seasoning: Salt and pepper to taste. 
Procedure : Heat oil in a pan and fry the onions until they are brown. Add rice, vegetables, eggs, salt and pepper to taste. Stir everything well so that all ingredients are mixed evenly. Serve with fried bacon or sausage on the side .
Wheatberry Salad with Radishes, Asparagus, Walnuts, and Spring Onions
Ingredients:
-Wheatberries – ½ cup
Seasoning : Salt and pepper to taste.
Procedure: Place wheatberries in a saucepan, cover with water then cook until tender (about 20 minutes). Drain well then place on plate or bowl. Add other ingredients to cooked grains so you can enjoy the flavors of spring!
Forbidden Rice Salad With Thai Coconut-Lime Dressing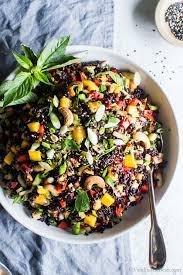 Ingredients:
-Forbidden rice – ½ cup
Seasoning : Salt and pepper to taste.
Procedure: Cook grains as you normally would until tender (about 15 minutes). Drain well then place on plate or bowl. Add other ingredients so you can enjoy the flavors of Thai coconut! This is a great recipe for lunch or dinner.
Final Thoughts
In this article, I've covered the most important features of Staub rice cookers and why these appliances are worth buying. If you're looking for a high quality cooker that is easy to store when not in use then the Staub rice cooker really does fit the bill! These models have been designed with your convenience in mind so you don't have to worry about cluttering up your kitchen or taking up too much counter space. Plus, they come at an affordable price point so it doesn't matter if you want one as a gift or personal item- You can afford it!  If all of this sounds great but you need more information on how to choose between different models, be sure to let me know.
Happy cooking!