Introduction
The Zojirushi NP-HCC10XH 5-Cup Rice Cooker features a sleek Stainless Steel design, and advanced micro-computer technology. But, thats not all , because it also has an incredible induction heating component that distributes the perfect amount of heat, for just the right amount of time to ensure all of your rice dishes come out cooked to perfection.
Is Zojirushi A Good Brand?
I love Zojirushi cookers because they produce consistently good results and this model is no exception. Its not the largest in the range but is available in a 5 or 10 cup (1L or 1.8L) variants so its big enough for most peoples requirements. As well as the normal features, I really love the Induction Heating function which uses magnets to generate heat. This gives a more even heat meaning that the rice is less likely to burn and can also me kept at a constant temperature for long periods of time -perfect for parties and cook outs.
The Zojirushi NP-HCC10XH has an internal pot that is thick, black in color and spherical which encourages the perfect air distribution for the best resulting rice available. You are informed as soon as the cooking cycle has completed thanks to the user-defined melody and beeping alert that sounds when the contents are ready to serve. Cleaning this device is a cinch , as the lid is removable and washable, while the fully functional LCD control panel is easy to wipe clean with a cloth.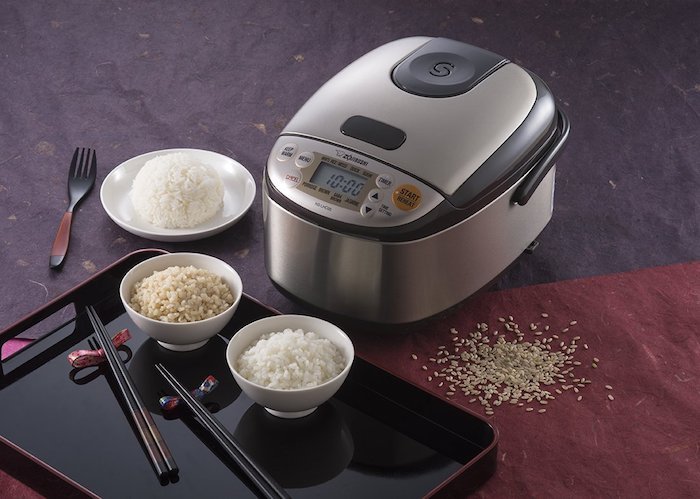 For those busier days, you can set the delay timer in the morning to have rice ready to serve by the time you return home from the office. In addition, this device's purchase includes a spatula and holder, as well as a rice measuring cup. All 1230 watts of power is contained and operated in a compact rice cooker that measures 10x14x8 inches.
This model also comes with a range of pre-set cooking programs for brown rice, GABA and germinated brown rice and others such as jasmine which really makes it a one-touch solution for all of your rice cooking needs.
Not only is this one of the best looking cookers on the market but its beautifully built, well specced and comes with a 1 year warranty for peace of mind.
Features
Zojirushi NP-HCC10XH Rice Cooker Features
Incredible Micro-computer Technology Operated Rice Cooker and Warmer
Produces Superior Cooking Results Through the Even, Induction Heat Distribution
Multi-menu Cooking Functions with the Touch of a Button
LCD Control Panel includes Clock and Timer
Accessories Include Spatula & Holder and Rice-measuring Cup
Product Dimensions: 10x14x8 Inches; Weight: Nine Pounds
Zojirushi NP-HCC10XH Rice Cooker Reviews
One user calls the design of this device "stunningly beautiful" saying she has yet to see a picture that positively represents its attractive composition. In addition, she says she has never tasted rice as good as this cooker provides, even in her favorite restaurants. She feeds her entire family stir-fry meals with perfect rice on holidays, and everyone looks forward to the homemade creation.
Another user makes enough rice for her and her friends to eat throughout the week, and everyone loves how great the taste is. It helps each of them maintain a healthy diet during work weeks, and promotes a "chip in" grocery outing which saves each of the girls money. They pooled their money to purchase this device, and expect to buy a second one to alternate meal preparation throughout the week. They all "absolutely love it" they say.
Zojirushi NP-HCC10XH Induction Heating System Rice Cooker and Warmer, 1 L, Stainless Dark Gray
Induction rice cooker and warmer. Electrical Rating : 1,230 Watts
Multi-Menu cooking functions. Dimension: 10 inch W x 14 inch D x 8 inch H. Capacity: Up to 5.5 cups / 1.0 liter
Automatic keep warm & extended keep warm keeps rice at the perfect serving temperature
Healthy cooking options: brown rice, GABA brown rice and germinated brown rice. Delay timer (2 settings) , Electrical Rating - 120 volts
Note-please ensure to measure rice in the cup that comes along with the product only. Troubleshoot-sparks by the plug when plugging or unplugging the power plug from the electrical outlet, this is common in rice cookers and does not indicate malfunction
Hopefully, you enjoyed this no-fuss recipe. If you would like to find out more great ways to use your rice cooker, I have posts covering how to cook pasta, fish or even lentils. Who knew that a rice cooker could be so versatile ?!
Last update on 2022-09-05 / Affiliate links / Images from Amazon Product Advertising API