Today I am going to tackle an issue that has been bothering me for some time. As you can imagine I love using my rice cooker and, recently, we had the chance to go and visit some relatives abroad. How are these connected? Well, I'll explain.
You are probably thinking, "What could be better than spending some time with loved ones overseas"? Well, normally, I would say nothing but, because we were planning to be there for a few weeks (that turned out to be a few months!) we ended up renting a small apartment.
And I mean small!
The kitchen was, shall we compact and came with only other bare minimum in terms of cooking utensils and gadgets. And, you guessed it, I was suddenly without my beloved rice cooker.
Because of the size constraints, my usual goto cooker – the Zojirushi TSC18 was out of the question (and, let's face it it's a bit pricey for only a few weeks use).
So, I ended up doing some research to determine what is the best small rice cooker, and I thought I would share the results with you, just in case any of you are facing similar troubles.
So, without further ado, let me share my findings.
TL;DR – Heres My Best Small Rice Cooker Pick
Zojirushi NHS-06 3-Cup (Uncooked) Rice Cooker, White (-WB)
Easy-to-use single switch control

See-through glass lid with stay cool knob

Stay cool handles for easy transport

Durable nonstick inner cooking pan

Every Zojirushi rice cooker comes with a plastic measuring cup. This cup has a capacity of 6-ounces, or about 3/4 of a U.S. measuring cup. The capacity of the rice cooker is counted in these 6-ounce cups of uncooked short grain white rice. One 6-ounce cup of raw rice makes about 2 to 3, 6-ounce cups of cooked r
Prices pulled from the Amazon Product Advertising API on:
Product prices and availability are accurate as of the date/time indicated and are subject to change. Any price and availability information displayed on [relevant Amazon Site(s), as applicable] at the time of purchase will apply to the purchase of this product.
What's The Problem With Rice Cookers?
With a rice cooker, we can cook healthy meals quickly and conveniently without worrying about spending too much time in the kitchen or being late for work (or bed!). Most rice cookers are very simple to operate these days. Thanks to advances in technology, such as fuzzy logic, you need to put the ingredients in, program a few simple settings, and then let the device do its thing. That leaves you free to go and do something more interesting instead. Then, after a while, simply serve the food and enjoy! No hassle, no mess, and no effort. Sounds great right?
But, there's a problem!
You see, buying a bulky rice cooker, especially if you only have a small kitchen may not be the best solution to your cooking woes, especially if you live alone and don't necessarily have to cook big meals every day. But, the great thing is that there are many good small rice cookers that are great for busy people, folks with small kitchens, or simply if storage space is at a premium.
So, no matter what your needs or circumstances are, with my help you can find the right small rice cooker to suit your needs.
My Top Picks
Image
Title
Price
Prime
Buy
Zojirushi NHS-06 3-Cup (Uncooked) Rice Cooker, White (-WB)

Prime

Eligible

Buy Now
Zojirushi NS-LGC05XB Micom Rice Cooker & Warmer, 3-Cups (uncooked), Stainless Black

Prime

Eligible

Buy Now
CUCKOO CR-0655F | 6-Cup (Uncooked) Micom Rice Cooker | 12 Menu Options: White Rice, Brown Rice & More, Nonstick Inner Pot, Designed in Korea | Red/White

Prime

Eligible

Buy Now
Aroma Housewares 6-Cup (Cooked) (3-Cup Uncooked) Pot Style Rice Cooker and Food Steamer (ARC-743-1NG), White

Prime

Eligible

Buy Now
Zojirushi NHS-06 3-Cup (Uncooked) Rice Cooker, White (-WB)

Prime

Eligible

Buy Now
Product prices and availability are accurate as of the date/time indicated and are subject to change. Any price and availability information displayed on [relevant Amazon Site(s), as applicable] at the time of purchase will apply to the purchase of this product.
Prices pulled from the Amazon Product Advertising API on:
So, why buy a small rice cooker?
Since rice cookers come in lots of different shapes and sizes, it's all too easy to spend a lot of time deciding which one is right for you. But, in this article, I am going to narrow in and only concentrate on small rice cookers. I will be explaining the advantages, and the disadvantages and I will also show you which one I think you should buy. Ready to dive in? Good, let's get started.
So, what are the advantages of using a small rice cooker over a large one?
1. They Are Budget Friendly
Compared with larger rice cookers, the best small rice cookers are often more economical to use which is great if you are on a tight budget. But even though they are usually cheaper than their larger counterparts, you can rest assured that they can still perform the basic functions required for cooking and, in some cases, even outperform their larger, more expensive rivals.
Most small rice cookers on my list have the same features as larger rice cookers such as cooking utensils, measuring cups, keep warm mode, and more – but almost always at a much lower price than their big counterparts.
2. They Are Easy to Use
Small rice cookers may not have all the bells and whistles that are usually found in larger and heavier rice cookers but that doesn't mean they don't, ultimately, do the same job. Most rice cookers have simple controls and one-touch settings that allow you to quickly and easily prepare perfect dishes every time. Fewer features mean less confusion and on most of the models I have listed, you simply need to select the time, and off you go. It doesn't get any simpler than that.
3. They Create Less Waste
Families with more than 4 or 5 people can definitely benefit from larger rice cookers like the Hamilton Beach or Zojirushi brands. But, for students living in an apartment, people who live on their own, or elderly people who don't eat as much, owning large, bulky kitchen appliances probably isn't necessary. Equally, many people just don't want high-spec, complicated rice cookers with functions that they never fully use.
So, it makes sense that if you only prepare as much food as you need and you don't ruin it by playing about with hundreds of complicated settings then you will waste far less food.
What to look for when looking for the best small rice cooker
As with any consumer product, you should take your time to weigh up the pros and cons of buying a small rice cooker. However, as far as I am concerned, these are the most important features you should be looking for:
The Capacity
Normally, small rice cookers are those which have a capacity of 6 cups of uncooked rice and 3 cups of cooked rice. This amount is sufficient to feed up to 4 to 5 people. Some small rice cookers have a larger capacity, ranging from 4 cups to 6 cups. Although the cups are small, some cups can only hold up to 15 cups of uncooked rice and 3 cups of cooked rice. A student living alone and a family of four will have different needs and require different rice cooker capacities.
Therefore, you first need to understand the amount of rice produced in a single cooking cycle. A normal meal usually requires 1-2 cups of rice so, my suggestion is that you buy a smaller rice cooker that can handle up to 3 cups of cooked rice. That way you will have the capacity for most meals with a little bit spare.
Ease of Use
Since small rice cookers are meant to produce smaller amounts of rice (no kidding!) they also tend to be simpler and, most of them at least, don't have the complex functions and cooking programs. That means, of course, that they are simple to use so are great for people who don't want loads of fuss or who even those of us who find the bewildering array of buttons and displays on some top-end cooker just too confusing.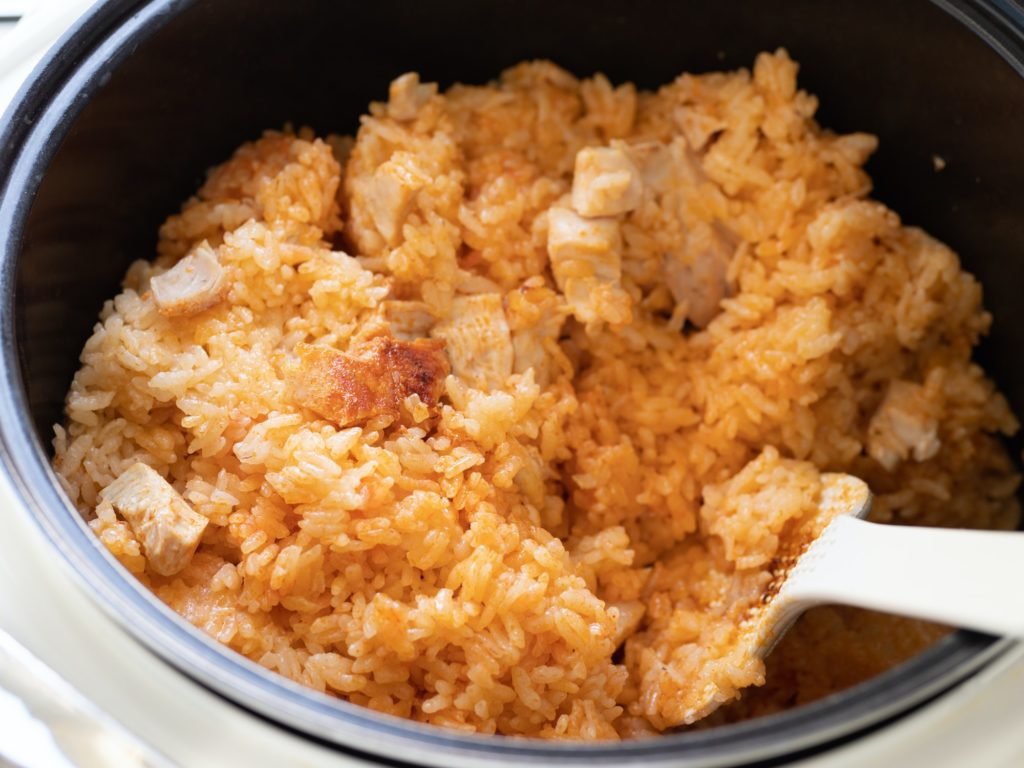 Most small rice cookers can be operated with a simple switch and a rotary temperature dial, while others have a digital display and simple easy-to-use navigation.
Most models are easy to clean as they tend to be made from stainless steel and, as I have said, don't have delicate buttons or LED displays to worry about. Of course, you can't just throw them into the dishwasher so it's important to get one with a removable inner pot if possible or, at the very least one made from hard-wearing materials if you want easy cleaning with a long life. For more cleaning tips please take some time to check out my article on how to clean a rice cooker!
Versatility
Nowadays, most rice cookers are not just used for cooking rice. Most of the models on the market today can double as slow cookers, steamers, and even soup cookers. The good news is that even a small rice cooker can normally be used for a range of different cooking tasks and can handle a range of different types of rice.
I would advise you to try and find one with some accessories such as the measuring cup, stirring spoon, and even a separate steam basket for steaming veggies, etc.
The keyword here is multifunctional – by selecting a rice cooker that is multifunctional you will be able to cook a range of different dishes and grains such as quinoa, pasta, and of course the different grains of rice simply by selecting the right program.
Even the most basic small rice cookers will normally feature some kind of presets for the different types of dishes and it's even possible to find models which have keep warm, delay timers, and even induction cooking features at a relatively low price.
Where to Buy the Best Small Rice Cooker
Small rice cookers are widely available and can be purchased from a variety of retailers. Online marketplaces like Amazon offer a wide selection of models from different brands. When purchasing a rice cooker online, be sure to read reviews and check the product description carefully to ensure it has the features you need.
Physical stores like home goods stores or appliance stores also carry rice cookers. One advantage of buying in-store is that you can see the product in person before purchasing.
Regardless of where you choose to buy your rice cooker, always check the warranty information. Most rice cookers come with a one-year warranty, but some brands offer extended warranties.
How to cook rice in a small rice cooker
Cooking rice with a small, convenient rice cooker on the kitchen countertop has never been easier, just follow the simple steps below:
Take your rice and place it in the inner pot.
Cover the rice with water until the grains are completely submerged.
Use your hands to gently knead the rice. Please make sure the rice cooker is not switched on at this point. You don't want to burn your hands.
To clean the rice grains. Drain the dirty water and repeat the cleaning process until the water is no longer cloudy.
Top up the pot with clean water to the desired level. How much water depends on the type of rice you are cooking. For most varieties, the ratio is 1 to 1 i.e. 1 cup of water / 1 cup of rice
Put the pot in the induction cooker and press start
The cycle should end within a few minutes, and you will be able to enjoy delicious and fluffy rice to your heart's content.
Conclusion
Owning a small rice cooker makes a lot of sense for many people and, the good news is, these days even low-end ones are well-made, reliable, and can produce great results. I've brought together 5 of the best small rice cookers on the market and explained which one is best for you. I hope you have found this useful and, of course, as always, I would love to hear from you in the comments section below.
Hopefully, you enjoyed this post and, if you would like to find out more great ways to use your rice cooker, I have posts covering how to cook pasta, fish, or even lentils. Who knew that a rice cooker could be so versatile ?!